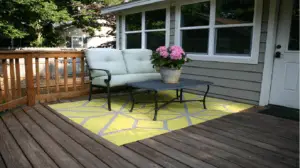 Placing just any outdoor rug material may end up damaging your wood deck in several ways. It can stain, rot, cause mold or mildew growth and scratches to your wood deck which is costly to replace.
Which means you must be careful when shopping for outdoor rugs especially when you are looking to decorate the space. There are certain rug materials and backing which you must avoid at all cost.
Read on to find out the different outdoor rug materials available and the kind that are safe and not safe for wood decks. 
Will an Outdoor Rug Damage a Wood Deck?
Let us take a look at the different types of outdoor rugs available for wood decks.
Types of Outdoor Rugs
Natural Fiber Rugs

. Natural fiber outdoor rugs such as jute and sisal are environmentally friendly and add texture to a wood deck. However, these materials do not do well under humid conditions.

Polypropylene Rugs

.This is a synthetic material that is great for outdoors as it is fade and stain resistant. It can withstand harsh outdoor weather and is relatively easy to maintain.

Olefin Rugs

. This is another synthetic rug material that is not only stain resistant but mildew resistant. It is a lightweight and soft material that feels great barefoot on a warm sunny summer afternoon.

Recycled plastic rug mats

. These are mats made from recycled plastic and help protect your wood deck from furniture leg damage. They drain water and are great for open decks.
---
See also  Outdoor Rug That Doesn't Hold Water
---
What Kind of Rugs Damage Wood Deck
Outdoor rugs that trap in water will definitely damage wood decks. For instance natural fibers such as jute and sisal will trap in water. This creates a conducive environment for growth of mold and mildew.
Rugs with a rubber backing are not safe for wood decks as they trap in moisture between the backing and the wood. The wood in turn soaks in water and starts to rot and turns black.
Rug pads which are not perforated should also be avoided as they will not be able to drain water.
You should also not use rugs that do not dry quickly such as cotton and wool. In addition avoid rugs that run the dyes used to color them when they are exposed to light or rain. Because they will stain your wood deck overtime.
---
See also Outdoor Doormat that Drains Water
---
What Kind of Rugs are Safe for Wood Deck
Generally synthetic outdoor rug materials are safe for wood decks. They do not absorb water and dry quickly. 
You only need to make sure they dry both the top and bottom by flipping it over. In addition, make sure no water gets trapped between the rug backing and deck to prevent rotting and mildew.
Best Outdoor Rugs for Wood Decks
This beautiful trellis Moroccan rug is safe for wood decks. It is made of polypropylene material and has a polypropylene backing too which will not soak in water.
Best of all it is available in several colors to match your deck furniture. It is also stain resistant and super easy to clean by vacuuming or hosing it down when it gets super dirty. 
More importantly, it is lightweight and dries quickly after a storm so you will not worry about your deck rotting or mildew growing on it. Consider getting it if you are looking for a safe low maintenance outdoor rug for your wood deck.
Main Features
Material.

The rug is made of plastic and the weaving is such that it does not hold water or dampness underneath, so your deck will not end up rotting from water lodged underneath it.

Super beautiful

. It has a vibrant look and adds a pop of color to any deck even for an aged deck, it gives it a new lease of life. You can choose from either the blue or yellow. Its design pattern on the rug is modern and sleek- looks good in pictures and in person too.

Super easy to clean and maintain

. When leaves fall on it, you can just sweep them off with a broom. If you want to clean it, you can hose it down and it dries very quickly. You do not have to worry about stains or spills because you can easily clean it up.

Reversible

. It is reversible, which means you can turn it either side if one gets a little dirty- and both sides look the same. It is very lightweight and you can carry it when you go out for a picnic , the beach or camping.

Carrycase

. It also comes with a carry case for ease of storage and carrying it along for trips to the beach or a lunch picnic. It rolls up easily when you need to store it up and also lays down flat on the deck with no creases or curling on the corners.

High quality

. It is very well made and of high quality material- it will last you a long time. It is available in two sizes, 6 by 9 and 8 by 10. Which means you can get a size enough to fit your outdoor furniture.

Price

. Last but not least, the pricing of the rug is practically inexpensive especially for the size-what more could you ask for?
---
See Also How to Keep Outdoor Rugs in Place on Concrete
---
Conclusion
Generally an outdoor rug that traps in water such as natural fibers will damage a wood deck overtime. Outdoor rugs that are safe for wood decks are rugs that do not absorb water and are generally synthetic such as polypropylene and recycled plastic mats.