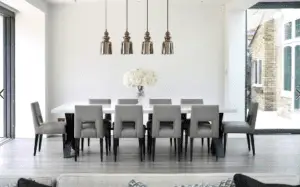 Rugs are functional and decorative to have under the dining table. However spills and stains are likely to occur which means extra maintenance and care if you have a rug under the dining table. Which can be overwhelming for some.
So, what is the alternative to a rug under the dining table? Alternatives to a rug under the dining table include decorative vinyl floor mats, interlocking floor mat tiles and outdoor polypropylene mats. These are functional, easy to maintain and stylish options.
If you find vacuuming a rug under the dining table such a chore or end up with so many stains on it from spills off the table. Let us take a deep dive into each option to help you settle on the one that will perfectly work for you.
Best Alternative to Rug Under Dining Table?
A vinyl floor mat under the dining table is an ideal and stylish option for any hard surface. It is very easy to clean and maintain. In case of spills you just wipe with a cloth. Look… you do not have to worry about spills and fading because vinyl is stain and fade resistant.
For homeowners with hardwood flooring, it is a good waterproof protection for under high chairs for kids, under pet bowls and the kitchen table to protect your floors from everyday messes.
The only thing you need to take caution is that vinyl is slippery when wet so just make sure to wipe any spills to avoid falling accidents
Pros
Waterproof

Easy to clean and maintain

Stain and fade resistant

Decorative and stylish
Cons
If you are looking for an easy to clean and maintain option to having an area rug, then foam interlocking mat tiles are what you need. They are made of foam which provides cushioning and comfort to a hard surface and have a classic faux wood finish.
They are super easy to install because they interlock with a simple jigsaw puzzle. Best part is you will not need any adhesive which means you can detach and expand to cover as much area as you want.
These are comfortable foam squares that give a cushioned anti fatigue flooring that is durable to withstand common foot traffic and sliding chairs. If you are hunting for a waterproof, non absorbent and easy to clean alternative to an area rug under the table.
Pros
Easy to install by interlocking

Waterproof

Stylish 

Easy to clean and maintain
Cons
Tear and scuff up easily especially if you put too much weight on it
---
See also What can You Use Instead of a Rug Pad
---
For homeowners who have carpeting in their dining room a clear plastic or vinyl mat under the table or chairs is what you should opt for rather than an area rug.
The thick floor protector will protect your carpet from wear from sliding chairs overtime  and staining from spills. It has grippers on the bottom to keep it from sliding and slipping on high pile carpeting.
Best part is, you can easily cut it to size to fit your preferred space. Consider this clear mat if you are looking for a waterproof and protective option for your carpeting under the dining table
Pros
Easy to cut to size

It's clear so you can still see carpeting underneath

Waterproof 

Easy to clean and maintain
Cons
Unlike regular indoor rugs used under the dining table, you can choose to settle for an outdoor polypropylene woven mat which you can easily hose off. Outdoor mats are stain resistant which means you can spill all the spaghetti sauce and not worry about getting stains. 
It can withstand high traffic from moving chairs in the dining table and would last longer than a regular area rug. It is super easy to clean and maintain and best of all it dries up very quickly. 
In case of spills this mat resists moisture so no soaking up. You will love an outdoor mat as a rug option if you are looking for a functional and stylish area rug alternative for your dining room.
It also has a safe backing for any flooring type and it will not slip or curl or crease up on your floors. It lays down flat and you can roll it up for storage.
Pros
Stylish and functional

Easy to clean and maintain by hosing off

Durable

Stain and fade resistant

Soft under the foot
Cons
---
See also Is it Safe to Put Rugs on Vinyl Plank Flooring
---
Things to consider in a rug alternative for under dining table
Easy cleaning and maintenance
because the dining room is used often it gets dirty easily. So get something that is easy to clean by either wiping off or hosing down.
Material:
get a material that does not get stains because of the spills which happen in the dining table. Vinyl is a good option to consider because it is waterproof, easy to wipe off and fade resistant too.
Size
the size you go for will depend on the size of your dining table and chairs in your dining room. You can opt to have a mat under every chair for individual protection, in such a case a clear plastic or vinyl mat works best.
Durable
Consider a durable and strong option that will withstand the weight of a table or chairs. Tightly woven mats or strong durable interlocking tiles may work well.
---
See also Non Staining Floor Protector for Furniture
---
Conclusion
It is no surprise for homeowners to look for alternatives to rugs under the dining table because rugs need a lot of care and maintenance. Yet the dining room is where food spills are likely to occur.
For a super easy to clean , durable and functional alternative consider these options.
Decorative vinyl floor mat

Interlocking foam tile mats with faux wood finish

Clear plastic or vinyl mats for those with carpeting in the dining table

An outdoor woven polypropylene rug that you can hose off when it gets dirty