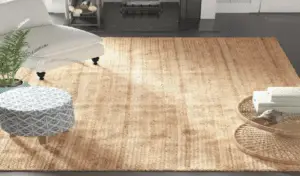 Jute rugs are popular because they are cheap, easy to maintain and come in neutral colors that blend easily with any room décor. 
Will jute rugs scratch hardwood floors? Well jute causes scratches on hardwood floors overtime due to friction between rug backing and floors. This is because jute is a natural fiber it tends to be scratchy and not so smooth.
Luckily, all you need is a rug pad so that you protect your floor from damage. 
Why Jute Rugs Scratch Hardwood Floors
Let's take a deep dive into why jute rugs will eventually scratchy and damage your hardwood floors. And what you can do to protect your floor investment.
Jute rugs are slippery

. Because hardwood floors are slick surfaces, jute tends to be super slippery on it. So overtime the rug will cause scratches on the floor. This also makes it very dangerous to have a jute rug without a non slip rug pad underneath it. Both for your family members and pets who love running around the house.

Rough fiber

. Jute is a natural fiber material similar to sisal and seagrass. This means it is not a very smooth fiber. Which means it will overtime due to friction cause small scratches on your hardwood floors.

Discoloration. If you fail to get a rug pad for your jute rug, after sometime you will notice discoloration on your floors. This is because of exposure to sunlight.
---
See also Best Non Slip Rug Pads for Jute Rugs
---
How to Protect your Floor from Damage
If you do not want to incur costs of polishing your hardwood floors. You must get a rug pad for your jute rug. It will do the flowing for your jute rug.
Non Slip

. Placing a non slip rug pad underneath will make your jute rug non slip on the hardwood floor. Giving you the peace of mind knowing your family will be safe from falling and slipping accidents.

Cushioning

. A rug pad also provides the much needed padding to protect your floor from scratches. In most cases the rug pad backing is of a latex or rubber material which reduces wear and tear due to friction on your floors

Waterproof

. Jute is not a waterproof material, which means if any spills occur, your hardwood floors will be at risk. But a rug pad with a latex or rubber backing will waterproof your floor.

Increase Rug Life Span

. As we have discussed, a rug pad will provide extra cushioning to reduce friction between floor and rug backing. This protects your rug backing from wearing out and in turn lengthen its life span.

Comfort

. You will definitely notice a difference when you step on your jute rug with a rug pad underneath it. It's like stepping on clouds and it will also be super comfortable.
---
See also Why A Rug Pad is a Must have for Jute Rugs
---
What is the best non slip rug pad for jute backing?
Now that we know a rug pad is a must have to place underneath a jute rug. It does not mean you get just any rug pad out there. Because the market is flooded with thousands of rug pads, and some will end up ruining your floors overtime.
Most  jute rugs are a bit thick and on the heavier side you will need a rug pad that is thick to provide good cushioning and also last you longer. It should also be non slip so you do not get a 100% felt pad.
The only non slip rug pad that we recommend for jute rugs is the MAYSHINE thick felt and rubber rug pad simply because it works like a charm.
Main Features
Non Slip

. This felt and rubber rug pad that will make your jute rug stay exactly where you place it. The felt side has a rough feel to grip to your rug backing and the rubber bottom sticks firmly to the floors.

Safe for hardwood floors

It does not leave behind any residue or discoloration on hardwood floors underneath. In addition, it does not leave behind any ugly mesh patterns on my floor like some do- it can be annoying.

Inexpensive

. It is actually fairly priced and yet of high quality at the same time. The market is flooded with rug pads that are garbage and yet expensive. The Mayshine felt and rubber rug pad is worth more than every penny.

Easy to use

.You can easily trim them with a scissors to fit your rug size and shape. Unlike some felt pads which are so thick and when cut to size they fray

Collects Shaded Fiber

. It is helps collect the shedding that comes with jute rugs- they are beautiful but you cannot deny the shedding that happens..so any stray fibers are trapped underneath it- just dust it off outside once a week

Sound proofing

. It also helps in dampening the sound of rugs moving on hardwood floors- it can feel like you are grinding your teeth.

No smell

. It does not have any industrial or rubbery smell ,so you do not have to worry about the rubber affecting the quality of air in my room.
---
See also Are Jute rugs Safe on Laminate Floors
---
Conclusion
Jute rugs will slowly but surely scratch your hardwood floors. This is because jute is very slippery and a rough natural fiber. Due to traffic and friction between the rug backing and floor. It will cause scratches which will be visible with time.
For the homeowner who wants to protect their hardwood floors from damage. All you need to do is invest in a non slip rug pad. It will make your jute rug non slipping on your floor and provide much needed padding to cushion your floor.