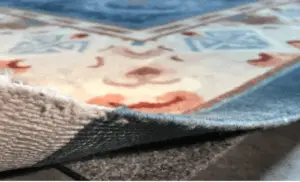 If your rugs keep slipping all over your floors and you just aren't looking to spend a whole lot of money on getting a rug pad. In this article we will discuss options you can use to keep rugs right where you want them.
So what can you use instead of a rug pad? Well you can use double sided rug tape, a rug grippers or fasteners,  shelf liner and acrylic latex caulk.
These options are cheaper than rug pads, just as  effective and will not ruin your floor or rug either. Let's take a deep dive into each so you can determine what will work best for your type of rug.
What Can You Use Instead of A Rug Pad
These are options that will not ruin your floors or rug backing either. They are easy to install and maintain too.
Double Sided Rug Tape
Just like rug pads, double sided rug tape will securely anchor your rug to the floor and prevent slipping. It contains adhesive on either side so they are super effective in securing rugs.
One of the best double sided rug tapes is this X Fasten Double Sided Tape which uses silicone adhesive and does not leave behind residue on your floors.
It is super easy to install and remove and works great on both rough and smooth surfaces.
Consider getting a double sided tape for your rugs and runners to avoid fatal accidents especially if you have kids or pets in your house.
---
See also How to use double sided carpet tape
---
Rug Grippers
Another inexpensive solution you can use instead of a rug pad is a rug gripper, fastener or anchor. They work perfectly in preventing curling of rug corners and keeping rugs in place.
For instance this X- Protector Rug Gripper which works on rugs of any type and shape. It uses a premium type of adhesive gel that is renewable by wiping off with some alcohol.
They come in a pack of 16pcs and are very easy to use. You can place one on each corner or 4.5" apart on the sides of the rug.
We strongly recommend using rug grippers to prevent tripping accidents on rugs that curl on the edges and corners.
---
See also How to fix curled rug corners
---
Acrylic Latex Caulk
For very slippery rugs and sleek surfaces, you can apply acrylic latex caulk on the rug backing to make them non-slip. This is an easy DIY project you can undertake in one weekend.
You only need to apply strips of the caulking every 6 inches and let it dry overnight. Once it's dried up, you can place back your rug on the floor- it is now a slip rug.
You can do this for your bathroom rugs and rug runners.
Shelf Liner 
A shelf liner will work best for handwoven rugs made of cotton or wool. They are super easy to install and maintain.
You only need to cut it to the size of your rug leaving about 2" all round. Then you use hot glue to keep it in place on the rug. 
Best of all, you can throw the rug and liner in the washer for cleaning and drying. For rugs you don't want to apply some hot glue, simply lay the liner on the floor and place your rug over it.
Adhesive Backed Velcro
Lastly, you can also use adhesive backed velcro which with industrial strength to keep rugs in place.
For best results get heavy duty strips like this Strenco Sticky Back Fastener that comes in a set of 16 pcs. They are super strong and versatile pieces for home use.
It works with the hook and loop method. The adhesive will hook securely on your rug backing and the hook and loop grab on the floor surface.
They are very easy to install and remove too when you need to clean under your rug.
See also How to keep rugs from slipping on laminate floors
Conclusion
You do not have to spend an arm and a leg to keep your area rugs in place at home. You have more than enough options on what you can use instead of a rug pad.
The options are effective and cheaper compared to getting a rug pad. For handmade rugs use a shelf liner, rug grippers for rug corners and double sided tape for area rugs. All are safe and will not ruin your floors or expensive rugs.