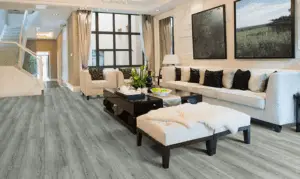 For homeowners looking for non staining rugs for vinyl floors, today is your lucky day.  The strict no rubber backed rugs for vinyl planks floors makes shopping for rugs an uphill task. Because the market is flooded with them and they only stain floors.
Rugs that will not stain vinyl floors are natural fiber rugs such as cotton, wool and jute. In addition, rugs labelled as colorfast will not stain or discolor your floors when exposed to light, heat or moisture.
For the case where you absolutely loved a rubber backed rug. Then you must get a rug pad to place underneath it so that you provide a layer of protection for your floors. More of that later in the article.
Non Staining Rugs for Vinyl Floors
Let us take a deep dive into rugs that you can use on your floors.
What Kind of Rugs Do You Use on Vinyl Flooring
Cotton Backed Rugs
Rugs with a cotton backing are safe to use on vinyl floors. The cotton material will not react with chemicals used to make vinyl floors. In addition it is soft so it won't scratch your floors due to friction.
One of the best brands that make cotton backed rugs is Unique Loom. They have a large collection of rugs from plush, low pile, contemporary and traditional design. For instance this Unique Loom Trellis Moroccan Geometric Area Rug that is not only modern but available in the neutral color gray.
Main Features 
Super Stunning

. They are available in beautiful colors and designs. Unique loom rugs are available in vintage, modern styles and traditional design too, whatever picks your fancy.

Safe backing

. The cotton backing is soft on your vinyl and does not lead to scratches overtime. This rug is thick at ¼ "and the cotton lining at the bottom weighs it down very well

Easy to maintain

. You can easily clean the rugs by vacuum cleaning weekly-best part, my robot vacuum works well on the low pile rug.

Stain resistant

and with a toddler running around spilling juice I do not have to worry of ugly staining. What's more, the rugs are pet friendly, my dog can actually lay all day on the living room rug

High quality and inexpensive

. The price is honestly unbeatable , especially at the size and quality of the rug. Unique loom rugs do not shed because the polypropylene used is tightly woven.

Colors are aesthetically pleasing

 and are available to match any room décor. Best part is you can get grays or off white colors which can match with any room décor without much hassle.

No Bad Smells

. These rugs do not have that awful smell which new rush comes with and if any with airing out for a day or two it's completely gone.
---
See also Non Staining  Furniture Leg Protectors
---
Jute Rugs
Another type of rug that will not stain vinyl floors are jute rugs. They are made of a natural fiber and although jute is slippery and scratchy. You only need to get a rug pad that is safe for vinyl floors.
They are available in neutral colors that match any room décor. Come at very friendly prices and are super easy to maintain. Although jute rugs shed unlike artificial materials like polypropylene, they are good for layering.
For example check out this nuLoom Rigo Hand Woven Jute Rug available in four colors. Our favorite is the color natural as it matches any room without much effort. And is available in several sizes and shapes.
These are easy to maintain by vacuuming or simply shaking off dirt. It is important to note that for jute rugs you will definitely need a rug pad for it. This is because jute is scratchy and slippery on slick surfaces such as vinyl floors.
---
See also Non Staining Rug Pads for Vinyl Floors
---
Cotton or Wool Rugs
Handmade cotton and wool rugs without a backing are also safe for vinyl floors. In most cases you will need to get a rug pad for them to add some cushioning and make them non slip.
Colorfast Rugs
Rugs labelled as colorfast will not stain or discolor vinyl floors. These are rugs that will not run the colors used to make them when exposed to light, water or pressure. The only problem is that they are hard to come by in the market.
What Should You Not Use on Vinyl Plank Flooring
Rugs to avoid on vinyl plank flooring are rubber or latex backed rugs and rugs made of materials with a rough backing such as jute. Such kinds of rugs will only damage your floors.
Stain and Discolor. Rubber backed rugs have the rubber to make them non-slip, but  rubber reacts with the chemicals present in vinyl flooring due to exposure to sunlight and friction from traffic on the rug. The by-products of the reaction are gases which discolor floors and leave behind sticky residue.
Leave behind residue

Latex and rubber backed rugs also leave behind black icky residue on floors which is hard to get rid of. 
Affect air quality.

Due to friction from traffic as rubber backed rugs release gases into the air of your home. This greatly affects the air quality and can be dangerous for your health in the long run.

Scratch your floors.

For rugs with rough backing such as jute, seagrass and sisal. They will slowly leave behind scratches on your floors if you do not have a rug pad.
---
See also Bathroom Rugs Safe for  Luxury Vinyl Floors
---
Conclusion
If you want non staining rugs for vinyl floors, you must avoid rubber or latex backed rugs. Instead go for rugs with natural backing such as cotton backed rugs. Natural fiber rugs such as jute are also safe for vinyl floors but you must get a rug pad for them to protect your floor from scratches.