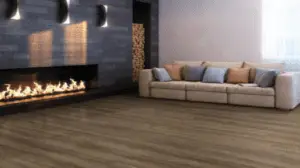 The only rugs that are safe for vinyl flooring are those WITHOUT rubber or latex backing because rubber reacts with vinyl flooring leaving behind yellow stains on them.
Unfortunately, the market is flooded with rugs with rubber backing which is used to make the rugs anti slip and waterproof.Which makes the search for rugs that are safe to use on vinyl flooring difficult.
Rugs suitable for vinyl floors are natural material rugs such as cotton, jute, seagrass and wool. You can use synthetic material rugs such as polypropylene but most have a rubber backing that is not safe on vinyl floors.
Rugs Safe for Vinyl Flooring
However, today we are going to share with you rugs that will not discolor or stain your vinyl flooring. These are rugs with natural fiber backing such as cotton and jute which are safe to use on vinyl floors.
Cotton backed rugs
Cotton backed rugs are safe to use on vinyl flooring because they will not react with chemicals used in making vinyl planks or tiles, meaning no discoloration or stains on your expensive floors.Cotton backing is also soft and it will not scratch your floors overtime unlike other backing such as jute.
The only cotton backed rugs that i recommend for vinyl flooring are Unique Loom Del Mar Collection Area Rug because i have used it for a year now and have not experienced any problems with it.
Main Features
Gorgeous is the word to describe this rug

– it's aesthetics are just so beautiful,the kind you get compliments with from friends a whole lot.

It is very easy to clean and maintain

– i vacuum clean it once a week, my dog hair comes off easy.

This rug is stain, mold and mildew resistant-

so i do not have to worry about growing mold in my basement floors.

The rug is available in four rich colors

and am sure you will find one that matches your decor just perfectly. They are blue-navy blue, gray- white, red-white and purple-white.

Its is of very high quality a

nd even after months of abusing it it still looks as good as new

The pricing is very fair

and on arrival , I actually felt I should have paid more for this rug- it looked exactly as on the pictures online.

This rug is also very soft

and my dog love loves lazing on it all day
CLICK HERE TO BUY IT FROM AMAZON
Jute backed rugs for vinyl flooring
Another safe material on vinyl flooring is jute which is a plant from India. The only thing you will need to know is that jute is extremely slippery on vinyl flooring and you will need to put a rug pad that is safe for vinyl plank flooring underneath to prevent slipping accidents.
Also, jute is not a soft backing like cotton so it could lead to scratches on your vinyl overtime from friction due to traffic overtime…a rug pad underneath will give the much needed cushioning to lengthen your rugs lifespan and protect your floors.
The only jute backed rug that i recommend for fellow home owners that are looking for plush rugs rather than low pile rugs like the one above is this nuLOOM Nieves Morrocan Diamond Shag Area Rug
Top Features
This rug looks expensive and can easily pass for a West Elm rug but the price is way much friendly.

The off white color makes it match any room decor.

It is very easy to clean and maintain- you only need to vacuum clean it and you are good. Do not worry about the plushness

It lays down flat, no creases , no curling on the corners which is such as plus because creases simply annoy me a whole lot.

No smells or gases with this rug -so my air quality is maintained.

It is very soft and my dog loves it too.

On arrival the rug looked exactly as on the picture no gimmicks
CLICK HERE TO BUY IT ON AMAZON
Handwoven cotton rugs with cotton backing
For home owners looking for all natural rugs, this 100% cotton rug is what you need. Cotton rugs are machine washable, pet and kid friendly and safe for vinyl flooring.The only cotton rug i recommend is this Unique Loom Chindi Hand Woven Cotton Rug
Main Features
Pricing is so right, very inexpensive- I am glad I searched relentlessly for a week and snagged this cotton rug at such a steal price on Amazon because you can easily spend 3 times more on such an area rug on Urban Outfitters.

The color is so subtle and beautiful -it can match any room decor easily.

Although it came with some smell to it, I dusted it off and then threw it in the washing machine-it came out smelling fresh.

Cleaning and maintenance is easy, nothing complicated.

It's good to know it will not stain my vinyl floors overtime.
CLICK HERE TO BUY ON AMAZON. Buying a cotton rug anywhere will only end up costing you twice if not thrice as much. 
Conclusion
Rubber or latex backed rugs are not safe for vinyl flooring because they will react with chemicals in vinyl causing discoloration and stains.Safe backing for vinyl floors are natural fibers such as cotton, jute and handwoven like wool or cotton.
The only slight concern may be that these rugs are non anti slip but this can be solved by putting an anchor rug pad for vinyl flooring to prevent any slipping accidents.
See also