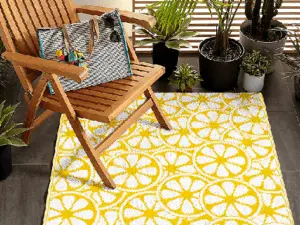 Getting outdoor rugs that dry quickly is a must have for rainy climates such as Florida because nobody wants to be stepping on a wet rug while trying to chill on their patio.
The most important feature to consider is the material of the rug. Synthetic materials such as polypropylene, recycled plastic and olefin are good materials for outdoors and they also dry up fast. Avoid natural fiber materials such as jute or sisal.
We have made your work way easier by rounding up this review to make your shopping a breeze. Best of all these outdoor rugs are pleasing to the eyes, soft on bare feet and super inexpensive. What more could you want?
Check Out Our Top 3 Recommendations
Reviews of Outdoor Rugs That Dry Quickly 
If you are looking for an outdoor rug that will not only hold water when it rains but add a beautiful pattern to your patio, deck or porch we highly recommend this Unique Loom Outdoor Trellis Rug made from polypropylene. Available at a price too good to ignore.
It is a flat weave which lays flat right after unrolling and feels soft on bare feet and if you have pets they will definitely enjoy lounging on it. Best of all it has all the features to make it dry quickly after the rains because it does not get water logged and is not as thick to take awhile to dry up.
They come in amazing rustic colors with trellis patterns and do not fade under outdoor weather. However, we highly recommend the teal colors as it's more durable. In addition, you can easily sweep dirt off with a broom or choose to hose it clean for a more general cleaning.
Another great rug that resists moisture is this Home Dynamix Moroccan Outdoor Rug which is machine woven and made of polyester. It is also UV treated for water, fade and mildew resistance. And has a woven polyester mesh fabric backing which makes it non-slip on sleek surfaces and will not scratch your wood, composite decking or tile surfaces.
The rug is soft on the feet and It dries super quickly once it rains and you will not be dealing with wetness. Best of all it's super easy to maintain by hosing it down and spot cleaning for stains or spills.
We recommend this outdoor rug if you are shopping for a durable, water resistant and colorful rug to spruce up your outdoor living space. It is easy to clean, safe for decking and dries up quickly. Everything you wished for in an outdoor rug!
---
See Also Outdoor Rugs Safe for Composite Decking
---
When you are not too big on patterns and are more inclined to solid colors, this Unique Loom Border Collection Rug will be best suited for you. It is no surprise that this brand makes a double appearance on this list. Unique Loom is known to make durable and aesthetically pleasing outdoor rugs.
This particular one is also a machine made power loomed flat weave rug made from polypropylene. It is ideal for high traffic areas both inside and outside your home. On your entryway, pool side area, patio or porch. And is available in round, standard, square and runner sizes.
Highly consider this rug if you are looking for an affordable and elegant outdoor rug that is easy to clean, stain resistant and won't shed. You can vacuum clean or hose off and it dries quickly after rain too. The fact that it doesn't have a rubber backing also means it won't be trapping in moisture in between.
Safavieh is a well known brand that has been around for over 100 years in the rugs market and this list would be incomplete without one of their own. They make quality, stylish and trendy outdoor rugs. And this Light Gray/Fuschia Rug is no exception.
It's an all weather rug made from a mix of polypropylene (85%), polyester( 4%) and latex(1%). Which makes it perfect for your deck, patio, gazebo, porch or by your poolside. Most important of all is that it dries fast and won't be experiencing mold or mildew growth underneath from water retention.
Consider this rug if you are looking for an outdoor rug with a classic yet modern look for your outdoor space. It is not only super inexpensive but easy to maintain by vacuuming or hosing it down. 
---
See Also Best Doormat for Pool Area
---
Finally we have this Balajees Plastic Outdoor mat for those looking for a waterproof outdoor mat with lots of color. For the environmentally friendly this will be a perfect match as it's made from recycled plastics. For those who live by the beach or are getting it for their balcony, consider this mat.
It's not only super large but has a price that is hard to pass by. Best of all won't soak water or smell of mold due to not drying well after the rains. If you have pets they too will enjoy lounging on it too.
It comes with a middle seam but most people found it a non issue. If you are on a super tight budget but still looking to add some pop of color and style to your outdoor space. Then a plastic outdoor mat will do just that.
---
See Also Best Double Sided Bathroom Rugs
---
Conclusion
Polypropylene, polyester and plastic are the materials to look out for when shopping for outdoor rugs that dry quickly. This is because they do not get waterlogged and dry up fast after a downpour.
We highly recommend this Unique Loom Outdoor Trellis Rug if you want a quality, durable and easy to maintain outdoor rug that will not be wet for days especially if you live in rainy climates such as Florida.