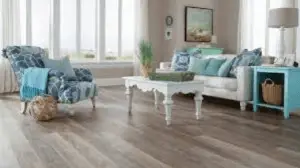 If you just installed luxury vinyl floors in your home- Congratulations on your new flooring! You must be aware of the no rubber backing rugs restrictions for luxury vinyl floors. You are probably wondering whether it is even viable for you to place rugs on your vinyl flooring given the extra strict instructions of no rubber backed rugs.
Which means you must get rugs without a trace of rubber or latex on them so that you do not end up ruining your expensive vinyl floors.
Rugs safe for luxury vinyl floors include cotton backed rugs for the living, rugs with non skid PVC backing and handmade natural fiber rugs like jute, sea grass rugs which require a rug pad underneath to protect your floors.
An Important Word about Rugs Safe for Luxury Vinyl floors
Although you can put rugs on vinyl flooring you must be very careful about the type of rugs you place on it. This is because just any rug could discolor , stain or scratch your luxury vinyl floors.
Sadly, the market is flooded with rugs which are not safe for luxury flooring which means you must be very careful while shopping for rugs for your home. Majority of the rugs in the market have rubber or latex backing to make them non-skid and waterproof.  
Therefore, you should only place rugs which do not have rubber backings on them or get an anchor grip rug pad to place underneath your rugs to protect your floors from damage.
However, we have done the heavy lifting and found rugs safe for luxury vinyl floors for every room in your house. I am sure you will find something you love and one which will not damage your beautiful and super expensive floors.
---
See also Rug Pads Safe for Luxury Vinyl Floors
---
Best Rugs Safe for Luxury Vinyl Floors
If you are looking for area rugs for your living room, dining room or bedroom consider getting rugs with cotton backing because they are safe for luxury vinyl floors.
The cotton backed rugs I recommend are Unique Loom Cotton Backed Rugs. If you are looking for a hassle free, beautiful and durable rug for your vinyl floors then this rug is for you.
Cotton is soft and it will not scratch your floors as a result of friction from people stepping on the rug. Cotton does not contain chemicals which could trigger a reaction with the additives such as plasticizers used to make vinyl floors. Cotton will also not discolor your floors overtime due to exposure of the rug to UV rays from the sun.
Main Features
Super soft,

it feels so cushy under the feet when you step on. My dogs can attest to this because they love lazing on the rug all day.

Good thickness,

it is not as thin as some claim because with 0.25" thickness, it is medium height plie

Easy to maintain and clean

you only need to vacuum clean it and in case of stains just spot clean. For us we use a robot vacuum and it does a pretty clean job.

Although it can collect pet hair, it is not noticeable and a vacuum picks that up well while cleaning.

It is

resistant to stains

which is a plus for me because my son is prone to spilling things on the floor. On top of that, our dog has vomited twice and it has not left a stain.

Because

it is mildew and mold resistant

you can easily use it as a rug for your basement floors where you have concrete and need to use a waterproof rug too.

No smells whatsoever

High quality and inexpensiv

e at the same time and is a

vailable in vibrant colors

Very durable

because it has withstand abuse from my 3 pets, my son , visitors and myself. And it still looks lovely 6 months later.
My Verdict: What's not to love about this rug,  I mean it's beautiful, durable, inexpensive and safe for your vinyl rugs.
---
See also Kitchen Rugs safe for Luxury Vinyl Floors
---
The bathroom is one room which cannot do without a rug because of all the water spilling which is simply a dangerous tripping accident in waiting.
And if you have vinyl floors in your bathroom too, you need a rug which is non-slip, super absorbent and easy to take care of. The only bathroom rug which I recommend safe for luxury vinyl floors is the Versailtex Chenille Plush Bathroom rug.
Main Features
Super Absorbent.

The microfiber used is chenille which is very thick, bushy and plush. Which makes them very absorbent to soak in water quickly. 

Easy to care for and maintain

. These rugs are easy to clean, you only need to machine wash, plus they do not shed a lot and dry quickly

Non skid backing

.The best part is this bathroom rug will not be slipping off your vinyl floors and the backing is not rubber. It uses a hot adhesive technology backing which is safe for vinyl floors.

What's more, the backing is rigid and does not fall off after heavy use and cleaning in the washing machine.
Available in vibrant and beautiful colors

. You can get this bath rug in over 10 colors. They are bright colors to brighten up a dull bathroom and quickly add style and pop.

The price is honestly inexpensive especially for the quality

. No regrets from getting this purchase, you definitely will buy again.
If you are looking for a decorative rug safe for luxury vinyl flooring, handmade rugs are a good option. Specifically handmade cotton rugs which are not bleached to avoid any dyes or additives which could discolor your expensive floors.
These rugs which I recommend can be used for the bedroom as a bedside rug, for our kitchen as a runner in front of the sink or in your bathroom in front of the sink.
Main Features
Decorative for a very chic kind of décor. It is versatile too, you can use it in your bedroom, kitchen or home office to your liking, pretty any room in your home.
Very long lasting and durable quality

. It does not shade its color or shed a lot like some wool rugs would

Easy to clean and maintain

by machine washing and drying.

No rubber backing

to stain your floors. 
---
See also Door Mats Safe for Luxury Vinyl Floors
---
Conclusion 
Luxury vinyl floors are lovely to have but the rugs you choose for them must meet strict no rubber backing rules. Otherwise you could get rugs which will discolor, scratch or leave behind sticky residue.
Make the backing does not contain any rubber or latex in it. Alternatively you can opt to get a rug pad that is safe for use on vinyl floors for when you are not sure of the kind of backing the rug is made of.