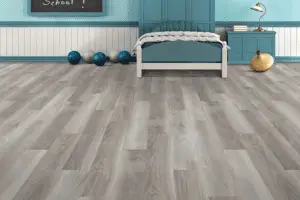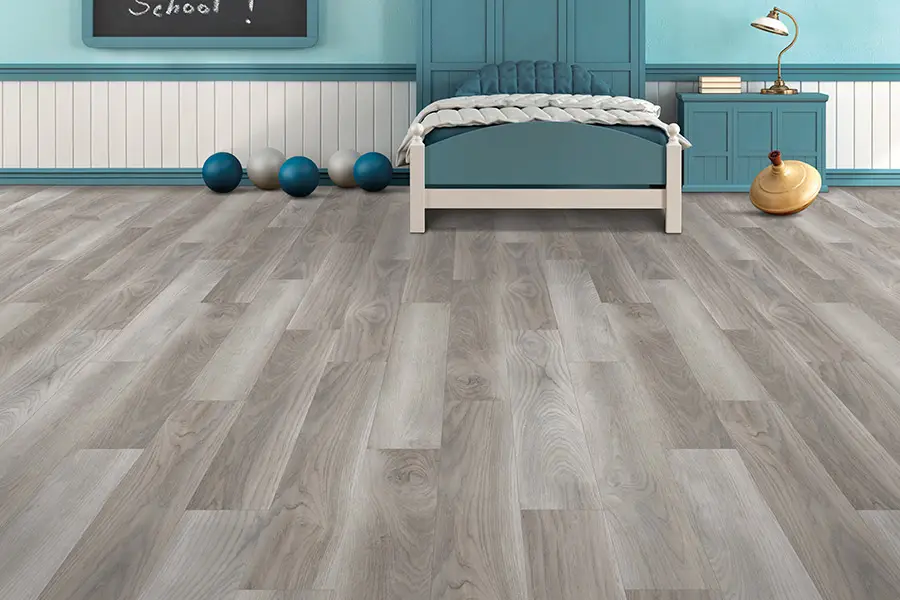 If you just installed new vinyl floors in your house , the installer must have informed you of the no rubber or latex backed rugs on your vinyl flooring because they will ruin your expensive floor investment.
Which means getting non slip rugs that are safe for your vinyl floors is actually next to impossible . This is because the rugs in the market are made with rubber or latex backing to make them non-slip. If you place rubber backed rugs on your vinyl floors, three things are sure to happen:
Staining

. Over time due to friction from traffic on the rugs and exposure to UV rays a chemical reaction will happen between the rubber and chemicals in vinyl. The gases released will lead to discoloration ruining your floors.

Sticky residue

. Another byproduct of the chemical reaction is the leaving behind of a sticky residue which is very hard to remove with regular cleaner. If you try scraping it off you can leave ugly grooves behind.

Lowered air quality.

As we have stated, friction between rubber backed rugs and vinyl flooring causes a chemical reaction which releases gases to the air. This reduces the air quality of your home for your pets and children.
Safe and Unsafe Backing for Vinyl Plank Flooring
You are probably wondering what kind of backing is safe to use on vinyl plank flooring. As we have stated, rubber backing is NOT safe for vinyl because of the discoloration and sticky residue it leaves behind.
You should also avoid jute backing on your vinyl floors because they are extremely scratchy and overtime they will leave behind grooves on your vinyl. For such kind of backing you will need to get a rug pad safe for vinyl floors to protect your floors
Safe backing for vinyl plank flooring in most cases includes natural fibers such as cotton and wool. Cotton is a safe material on vinyl and it is also soft so you do not have to worry about any markings or discoloration occurring on your floors.
Handwoven cotton and wool rugs without backing hand will also not ruin your luxury vinyl floors. Rugs labeled as  colorfast are also safe for vinyl floors, colorfast means that they will not end up staining floors from the dye used to make them when exposed to moisture, heat or light.
---
See also Non Staining Rugs for Vinyl floors
---
How to make Rugs Non Slip on Vinyl Floors
There are several ways to keep a rug from slipping on vinyl flooring and they include:
If you are on a tight budget, placing double sided rug tape underneath your rugs is a sure way of keeping your rugs exactly where you placed them. The only rug tape we recommend is Xfasten Double sided carpet tape
Best part is that it uses silicone adhesive which is very durable and super sticky. Your pets can run all round the house without worrying about them slipping off your rugs. It is also very easy to install and cut with scissors.
Removing it is also easy and it does not leave behind any residue on vinyl floors and it will not discolor your floors. What's more it is a multipurpose rug tape you can use for your home. The price is also very affordable for the high quality silicone adhesive it provides.
For a longer lasting solution to rugs slipping on vinyl floors, what you need is a rug pad that is safe to use on vinyl plank floors. This is because most rugs in the market are made from rubber which will ruin your floors.
So you must be very careful when shopping for rug pads for your expensive vinyl floors. Materials which are safe to use include memory foam rug pads if you want a thick padding for area rugs that are thin or you are looking to soundproof your home.
Pros of Rug Pads for Vinyl Floors
They lengthen the lifespan of your area rugs by providing a cushion between the rug backing and floors

Rug pads with mesh pattern provide room for air to circulate between your area rug backing and the floors.

Avoid curling on the corners of your rugs and bunching up of rugs in the middle

Makes cleaning under your area rugs very easy as compared to placing rug tapes underneath your area rugs.

Rug pads are longer lasting as compared to rug tapes.
Rug pads made from premium polyvinyl chloride (PVC) are also safe to use on vinyl flooring such as this Aurrako Non Slip Rug Pad.
Finally, a double sided rug pad made from felt and silicone like this one by I FRMMY  will also keep your rugs exactly where you place them and avoid slipping accidents which will lead to emergency room visits.
---
See also Rug Pads Safe for Vinyl Floors
---
Rug grippers are a very good option for foyer and kitchen runners on vinyl plank floors. Placing a rug gripper every 2cm all round your runner will ensure it sticks securely to the floors. One of the best is this X Protector Rug Gripper which uses reusable silicone adhesive.
If you have kids and very boisterous pets who enjoy running around the home. You can rest securely knowing that they are safe from slipping accidents from sliding runners and rugs.
Look, if your rugs have also been curling like crazy on the corners, rug grippers also fix curling rug corners instantly. They are also very easy to install and can be reused or washed whenever they get dirt or lint from the rug.
---
See also Bathroom Rugs Safe for Vinyl Floors
---
Conclusion
Manufacturers of rugs use rubber or latex backing to make their rugs anti skid. Which means such non slip rugs are not safe for vinyl floors because they will discolor it. As a homeowner you want your flooring investment to last you as many years as your installer stated.
We strongly recommend you use a rug pad to make your area rugs non slip. This does not mean you cannot make your area rugs non slip, you can and there are options you can take:
Placing

double sided carpet tape

under area rugs which do not leave behind any residue or damage vinyl floors.

Getting

rug pads

that are made from materials which are safe for vinyl floors such as polyvinyl chloride rug pads and double sided felt and silicone.

Considering rug grippers for runners and throw rugs because they are smaller in size.