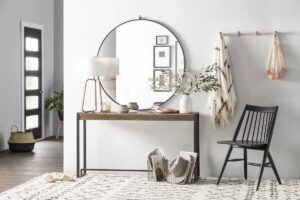 With the end of the grass staining season, marks the beginning of beautiful winter wonderland. Which comes with its own issues if you do not have the perfect entryway rug to wipe your shoes.
Because just any rug won't cut it as melting snow will flow right through it, wetting your floors. That is why we have done the legwork and rounded up for you the best entryway rugs for winter. 
And it does not have to be difficult choosing one for you, because the most important feature to consider is- it MUST be waterproof. So that it can trap wet snow and winter sludge, to protect your floors and avoid dragging water puddles around the house.
Quick List of Our Top 3 Picks
Reviews of the Best Entryway Rugs for Winter
If you are looking for an entryway rug that will keep your floors clean, dry and safe. Take a closer look at this M+ A waterhog mat. It has a bi-level surface which effectively traps dirt and water from shoes and traps it below the surface level. 
This way it prevents tracking of water puddles and mud around the house. What's more, it has a water dam border that can trap up to 1.5 gallons of water per square yard. Storing up all the water from melting snow on it.
M+A waterhog mat is also an eco friendly product. The top is made from recycled plastic bottles and the backing from recycled rubber from car tyres. The backing is safe for hardwood floors and does not slip around too.
Best of all, it is resistant to staining, fading and rotting. And  is very easy to clean and maintain by vacuuming or hosing it down. You can choose from the 8 colors and different sizes available to match your entryway.
Nobody wants a door mat that will interfere with opening and closing of the door. And that is why we are recommending this low pile Sierra Concept door mat. It is made of ribbed polyester fiber and a rubber backing which will trap melted snow from dripping on the floor.
They come as a pair for a price which is truly inexpensive. So you can always have a clean one to replace the dirty one.  And it is very easy to clean and maintain. You can vacuum clean or hose it down.
If you prefer entryway rugs that don't take up too much space, highly consider getting these 30" by 17" for your entryway. It is perfect for snow and wet season and is very easy to maintain.
---
See also Best Rug for Under Dining Table
---
With a 3/8" thickness, the Notrax entrance rug absorbs as much water and does not leak. It also has a brush step design that works perfect for scrapping shoes and trapping all debri. It works great for high traffic entry ways either at home or the office.
As for the size ,it is 3" long, just the perfect size to allow you to make two or three steps before you step on the bare floors. And unlike the regular door mats that start falling apart after a few weeks of use it is made from heavy duty materials that are durable.
Consider snagging one of these if you are looking for a thick, super easy to clean and durable door mat for your front door. It soaks in wetness, traps slush from shoes and helps you keep your floors sparkling.
---
See also Double Sided Bathroom Rugs
---
For home owners with pets who do not want to constantly clean off debri and muddy paw prints. Then the Gorilla Grip chenille entryway rug is what you should get. It is super absorbent and you won't need to stop your dog with a towel as they are coming back in.
Best thing is that it has a tough grip on the bottom so your dog won't be sliding off the floor. It is super easy to clean in the washer and dryer and holds up well after several washes. As a tip, consider cleaning it alone to avoid contaminating other items.
If you have been struggling with keeping your floors clean and water free. Highly consider this chenille rug to save some sanity this winter. It is available in 20 colors for your choosing to match your decor.
Unlike the rugs listed above, this waterhog commercial grade mat will hold up very well through horrendous winter weather. This is because it is not adversely affected by salt or melting ice and soaks up water very well.
It has reinforced rubber snubs that will not crush under high traffic and can withstand scrapping from shoes. It is also a heavy duty entrance mat that offers great value for money because it is durable and of commercial grade quality.
Highly consider this waterhog mat if you are shopping for a high quality mat that will catch everything that is tracked in. It stays put on hardwood floors. It is available in various sizes and more than 20 colors for your choosing. The dark brown is particularly popular because it masks dirt very well and matches basically any floor beautifully.
---
See also Bathroom Rugs Safe for Vinyl Flooring
---
Conclusion
With all the climate change in our world today, each new winter is record breaking. And if you do not want salt and water being tracked all over your floors. You will need to consider a few things when shopping for a rug that will soak in water and trap dirt from shoes.
Consider a size large enough for you to make two steps before stepping on the floor. The material should withstand salt and melting snow. Most importantly it should trap in water from reaching your floors.
We strongly recommend the M+A Waterhog mat as the best entryway rugs for winter that will keep your floors clean and dry. It has a smart two level design that keeps water off surface level preventing tracking around the house. And is very easy to clean by vacuuming.