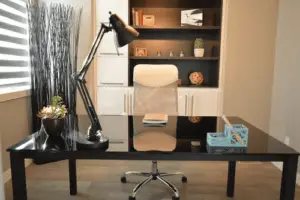 Are you looking for a high quality rug for your home office chair? Do you want to protect your floor from getting scratched by rolling chair wheels?
Well, today I am going to share with you the best option so that you can protect your floors from getting damaged and still glide easily on the floors when you need to move.
What is the best rug for a home office with a rolling chair?
What you need is a chair mat which will prevent chair wheels from slipping on the floors and keep you from slipping around on your floors. You are probably wondering why settle for a chair mat rather than woven rugs?
This is because you need a flat surface as opposed to a woven rug which is likely to affect the movement of your chair especially if it's a high pile rug.

A chair mat stays flat and does not bunch or crease up,making it more comfortable compared to a rug.

A chair mat is thicker and will be able to provide enough protection from rolling wheels on a hardfloor.

Chair mats are also available in a clear color, which allows you to still admire your beautiful floors underneath as opposed to an area rug

It can be rolled up easily for cleaning under the mat
Now that we know a chair mat is the best solution,you must be careful while shopping for a chair mat for your floors. 
Why?
The market is flooded with many kinds of chair mats but not all are durable or suitable for hard floors.
The only chair mat I recommend is the Office Chair Mat for Hardwood Floor by Somolux simply because I have been using it for months now and it has worked great.
Things that i Love about this chair mat 
It is suitable for all floor types- hardwood , vinyl, laminate , tiles and concrete. 

It is clear or rather transparent which makes it blend well with any type of decor you have in your home office.

It is available in the perfect size -not too big but not too small, just enough to fit a regular rolling chair size

The clear surface allows you to see through your beautiful floors.

It is made of a smooth polycarbonate material which will not scratch your floors underneath.

It does not come with any smelly chemical odor like plastic chair mats do- so annoying.

It has a textured top surface which offers enough rolling resistance from rolling chairs to avoid unnecessary movement on slippery floors such as vinyl or tile floors.

The surface is not too slippery like tile at the same time it doesn't slow down the movement of your chair.

It is thick and will not wear out quickly- and you can actually cut it to size depending on your use

It lays flat without much hassle, i did not experience any permanent curling issue- because it comes rolled up, you may need to set heavy objects on the corners for them to get perfect flat or give it 2 days to do so

It stays exactly where you place it-no  rolling, sliding or slipping on floors because it has a gripping bottom surface.

It protects my hardwood floors from scratches overtime caused by rolling chair wheels

It is of a high quality and durable material- hence long lasting

It is fairly priced compared to similar products -which gives me great value for my money.

It does perfectly well the job which i bought it for-to protect my hardwood floors and keep my chair from sliding unnecessarily on the floors.

What more could one ask for? High quality and cheap at the same time- save you money fellas.
How much does it cost?
CLICK HERE TO CHECK PRICE ON AMAZON
You do not have to worry about the price because this chair mat is very affordable and high quality at the same time.
I do not have a single regret from purchasing this chair mat, i have had no issues with it so far and it serves the purpose i got it for very well.
It is simply the best priced for its category because most chair mats are overpieced to be honest with you.
But for this one- you get great value for your money. 
Will this chair mat lay flat quickly?
Before getting this chair mat I also had my own reservations on whether it would lay flat, curl up , crack or break.
So naturally, i read other customer reviews to hear what they had experienced and most were saying they did not experience any permanent curling problems with this chair mat.
CLICK HERE TO READ OTHER CUSTOMER REVIEWS
It did come rolled up but when laid down -it does take some time to completely lay flat depending on the temperature of your place. 
Therefore, you may need to give it about 2 days to acclimatize to the temperature of your place. Or if you want it to lay perfectly fat quick- place some books on the corners overnight and viola in the morning it will be all good.
Pros
It is clear so it matches well in any room and you can see your beautiful floors underneath

It is made of a non toxic polycarbonate material- no smell

It does not curl up despite coming rolled up

It has a textured surface which prevents any unnecessary movements

It has a grippy surface hence it doesn't slip or slide on slippery floors
Cons
It is not meant for carpet
Where to buy
Well, I bought mine from Amazon.com and i am so pleased with my purchase. It arrived a day early- without delay which i loved.
It came in rolled up, which I did not have a problem with because it did lay perfectly flat after without much hassle.
If you are looking for a high quality and affordable rug for a home office with a rolling chair then this Office Chair Mat for Hardwood Floor by Somolux is exactly what you need.
Related reading rolling chair on vinyl plank flooring