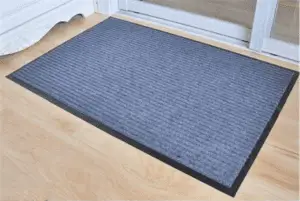 To get a doormat without a rubber backing is like looking for a needle in a haystack. It can take you days or weeks before landing one because the market is flooded with door mats with rubber backing.
Unfortunately rubber backed door mats slowly stain hardwood floors and leave behind sticky residue which is hard to get rid of.
But you don't have to stress anymore, we scavenged the internet and snagged non slip door mats  without rubber backing. They have vinyl or PVC backing which is safe for all types of floors.
A Review of Door Mats Without Rubber Backing 
Let's take a deep dive into the features of each, am sure you will find a doormat  you will love.
If you are looking for a doormat without rubber that you can use all year round. Then highly consider getting this Kaluns Doormat.
Main Features
Material

. It is made of 100% polyester material which is very durable and does release any extra fiber dust. So you can use it immediately upon arrival without the need for cleaning it up.

Super absorbent

. This doormat will absorb mud, snow and grime from shoes and pet paws. You can be sure no mud or water puddles will be dragged on your floors.

Size.

It is available in 3 sizes defending your needs and best of all you can easily resize it using scissors for a perfect fit.

Non slip waterproof backing

. It has a PVC backing which will stick on your floors and won't let any water seep through either. It is safe for all kinds of floors too.

Easy to maintain

. You can vacuum clean it weekly, machine wash under 30 but do not use the dryer to avoid destroying the backing. When it gets super dirty you can hose it down too.

Best of all the polyester material dries very quickly.
Super stylish. This doormat is available in 8 beautiful and welcoming colors. You cannot miss a color to match your home décor. And because it's a versatile door mat you can use it in your kitchen, laundry room or garage.
Inexpensive

. The price is fair and you get a 1 year money back guarantee. Which is super inviting and risk free too. 
My Verdict: I highly recommend this absorbent, easy to maintain doormat with a pvc backing that is non slip. It is of high quality at a price that is practically inexpensive and offers great value for your money.
---
See also Outdoor doormat that doesn't hold water
---
The Ultra Lux Indoor Entrance mat has a vinyl backing and is made of polypropylene fiber which is similar to one used to make carpets. It is effective in trapping dust, dirt and moisture from shoes and pet paws.
Main Features 
Material

. It is made of low profile polypropylene fibers that are super absorbent in trapping dust and moisture from shoes.

Vinyl backing

. This doormat has a non slip vinyl backing and edging all round. It will not slip around on your floors and stick firmly to prevent tripping and slipping accidents.

Super easy to maintain

. You can vacuum clean or machine wash under 30 degrees but do not tumble dry. The fibers dry quickly and it doesn't shed much.

Super stylish

It has a nice design and doesn't look cheap on your door. Comes in a color blue and brown which can easily blend with the home decor. The low profile fiber will not get trapped under doors too.

Size

. This doormat is available in 4 sizes for your choosing. And is a versatile mat that can be used in the kitchen, laundry or mudroom.
My Verdict: For home owners looking for a doormat with a carpet look that will trap dust and dirt this doormat is for you.
---
See also Door mats safe for vinyl floors
---
When you have a busy front door what you need is a doormat that is able to clean shoes effectively and the Notrax brush step mat is the perfect choice. It has ribbed design which makes it easy to reach the sole threads of shoes for easy cleaning and drying.
Main Features
Material.

It is made of poly fibers which are very effective in trapping water, snow, salt and debri from shoes during those boisterous winter weather. You can bet your floors will be clean  and dry with this doormat.
Vinyl backing

It has a waterproof vinyl backing and edging which is non slip and traps in moisture from reaching your floors.

Easy to maintain.

You only need to vacuum clean this doormat because it has a low profile fiber design. Which is also great as it allows the door to open and close easily.

Pet friendly

. You can easily vacuum dog hair and hide pet stains with this classic black doormat.
---
See also Door Mats Safe for Hardwood Floors
---
Conclusion
Your search for door mat without rubber backing ends here. Am sure you found a doormat suitable for you from the three above. We highly recommend the Kaluns doormat which has a PVC backing that is waterproof and non-slip.
You can use it through the whole season, it's easy to maintain and comes in a variety of colors to choose from.