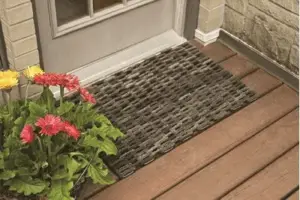 If you live in a rainy climate outdoor door mats that drain water are a must have. So that you do not end up with a waterlogged doormat that takes forever to dry up, grow mold /mildew or worse rot your deck. 
There are features to look out for when shopping for a doormat with effective drainage. The material should be water resistant such as rubber, have holes or patterns to allow water through and be able to withstand harsh outdoor weather.
Good thing we have made your work even easier by reviewing for you durable, stylish and price friendly doormats for your patio, deck or backdoor that will not only be functional but add some aesthetic too.
Check Out Our Top 3 Recommendations
Best Outdoor Door Mats That Drain Water
If you are looking for a doormat  that will not only drain water but also last you years. You should consider this Durable Corporation Entrance Mat made from post consumer ply-tires. 
It comes in a solid black color with a herringbone pattern which makes it effective in letting through water and trapping in dirt and mud from shoes. It is also heavy duty and will not be blown away by stormy weather. 
Best of its super sturdy because the tire cuts are joined with galvanized steel wire and can hold up high traffic and exposure to elements of outdoor use. And can be rolled up for cleaning or storage too. We highly recommend this doormat if you are looking for a doormat to serve for years and not retain water too.
When you live in a rainy climate then mud is also inevitable and that is why we have listed this Dura Rug Outdoor Doormat which will not only trap water but clean off all mud and debri from shoes.
The mat is made from recycled tires with the top buffed to create a fabric like material. Which makes it effective in cleaning of dirt from shoes. Best of all it does not get wet in rain or freeze in winter weather and still maintains good traction.
You can be sure no mold or mildew will grow underneath this rug and cleaning and maintaining it is super easy by hosing off. Highly consider this outdoor mat if you are looking for a doormat that will do the job, that your dog won't chew down and last you generations.
---
See Also Best Outdoor Doormat for Rain
---
For those looking for a top quality rubber doormat that is not only durable but price friendly look no further than this Kempf Scroll Doormat that is heavy weight, attractive and super easy to clean and maintain.
The open scroll pattern is not only beautiful to dress up a patio or front door but makes it effective in letting water through and scraping off dirt and mud from shoes. And you can easily lift it up and clean underneath with a broom and hose it off clean.
We highly recommend this doormat if you're on a tight budget and do not want to get yet another doormat that will get soggy when it rains. The size is perfect, material durable and price practically inexpensive.
The Shepherd's Outdoor Mat is a doormat that will not only drain water but remove pebbles and sand off shoes very effectively. It has a geometric pattern that makes it stylish and also classic at the same time.
It is made from recycled rubber and is super multifunctional for home use as a doormat, anti fatigue mat and for slippery areas around the house. You can be sure it will stay put and not slip around as its non-skid as it has a beveled surface.
It is available for several sizes to suit your needs and although the price is a little on the higher side. You can be sure it is worth every penny you spend on it and will last you years to come.
---
See Also Best Doormat for Wood Deck
---
Unlike all the doormats on this list, this HDPE Outdoor Doormat is made from recycled plastics material. It not only looks stylish and elegant but comes in bright colors that will not degrade to exposure to outdoor conditions.
It has some amazing features; it is UV resistant so it will not fade under the scorching sun. Has a weatherproof design that makes it last all four seasons without damage. And the stainless steel design makes it let water through, dry fast and won't crack or splinter.
For the craftsmanship and quality of this mat we can conclusively say it will give you value for your money. You will be contributing to recycling excessive plastic in the environment and will be getting a weatherproof and fade proof outdoor mat for your patio.
---
See Also Best Outdoor Doormats that Don't Hold Water
---
Conclusion
Outdoor door mats that drain water are a must have if you are looking for a mat that will not lead to growth of mold and mildew on your front door. The most important feature to consider is the design and material of the doormat.
It should enable water to flow through and be made from a material that is not only resistant to harsh outdoor weather but durable. We strongly recommend rubber or recycled tires as they don't fade and can withstand high traffic.
Highly consider getting this Herringbone Weave Doormat if you are looking for something decorative and sturdy or Kempf Scroll Doormat for the price friendly option.