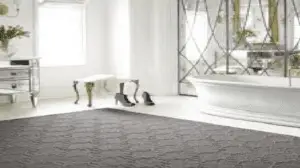 Have you almost slipped off your non slip bathroom rug recently? Well, that should not be happening again. Bathroom rugs are important in the bathroom because they keep the room dry and not be a ticking bomb for accidents.
So if your bathroom rug slips a lot, how do you make it non slip? Here is a quick step by step guide on how to make bathroom rugs non slip.
First you need a

Fiber Lok Non Skid Rug Backing

Remove any dirt or lint off your rug bottom.

Apply fiber lok rug backing on the back of the rug.

Finally, leave it to dry for over 6 hours before it is ready to use.
The steps above may appear simple but you need to read the detailed guide below for additional details on how you are to do the application properly and safely for it to be effective in making your rugs not slip.
What's more, there are more budget-friendly ways to make your bathroom rug non-slip. You can read about them at the end of the article.
A Quick Note on Non Slip Bathroom Rugs
You are probably wondering why you are using a fiber lok non skid backing technology rather than any using caulking to make your bathroom rug non slip. 
Well, the reason is simple, you need a backing that will be machine washable and dryable to make it easy when we are washing our bathroom rugs.
In addition, fiber lok rug backing cleans up easily with soap and cold water as compared to other adhesive which leave residue on the floor, discolor your floors and turn yellow over time.
Which is why fiber lok rug backing is the perfect solution for making your bathroom rug non-slip while making sure it remains machine washable.
Materials you will need
1.Prepare the Back of your Rug
Before we apply the fiber lock backing you must make sure your rug backing is clean and dry. Get rid of all lint or hanging treads to make sure we will be applying the fiber backing on a clean surface.
As a tip, you can choose to do this process after you have machine washed your rug and dried it completely.After this, assemble the tools you require like the brush and eye protector glasses.
2. Apply the fiber lok rug backing.
As much as the process sounds easy, you need to exercise caution. If you do not have eye protector glasses, get or borrow some from a friend or neighbor.To prevent any contact of the product with the eyes because the damage can be permanent. Better safe than sorry in this case.
Also consider carrying out this activity outside the house to allow free flow of air.Using the brush, apply a thin and even coating of fiber-lok on the back of the rug.Leave it to dry, it will appear clear once this is well dried. You can leave it out in the sun for this.
Then apply the second thin coat and leave to dry once more.As a tip, if you find the product to be limited you instead of doing a full application. Apply in intervals of 4 inches all over the rug kind of a "checkerboard pattern" to cover about 40% of the surface.
3. Leave it to dry
You need to give it enough time for it to dry completely.You will get the best results if you leave it to dry for at least 6 hours or better yet overnight to make sure it sets in properly.
The result will be a completely non-slip rug for your bathroom.If you have some product left for future use, you need to seal the lid with the plastic case between the lid to prevent it from drying.
Tips on How to Make Bathroom Rugs Non Slip
Get a non slip rug pad
If you are not up for a DIY to make your bathroom rugs non slip, consider getting a non slip rug pad which adds cushion and grip to your rug. They are thin and will not add height to your rug and come pre-cut to fit standard size area rugs.
Consider rug grippers
Just like a non slip rug pad, rug grippers can make your rug anti slip. What's more they are reusable for when you need to clean your bathroom rug in the washing machine.You only need to wipe the surface with a piece of cloth and some alcohol and it is as good as new.
Final Thoughts
To have a slippery rug in your bathroom is dangerous and can be fatal. Lucky, there are simple methods you can use to make your bathroom rug non slip. The main ways are
While some of these methods are simple some will require some DIY and caution for safety to carry out.Good thing they will be well worth it for they will prevent a trip to the emergency room due to a slipping accident.