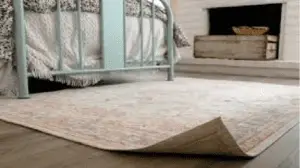 Does the curling of your rug corners bother you? Have you tripped once or twice due to the curled corners? Worry no more, because you do not have to do away with your rug or spend a lot of money for some professional fixing – you can do it yourself at home.
Here is a quick and easy guide on how to fix curled rug corners.
First you need an

anti curling rug gripper

or carpet tape.

Make sure the rug corners and floor surface are clean and without any lint.

Then, peel the plastic off and stick the grips on the corners of the rug.

Finally place the rug back on the floor and press for some seconds for it to stick.
The steps above are relatively simple but if you do not do them well, the gripper might end up not working for you. Make sure you read the guide below so that you get all the key information on how you can renew the sticky surface each time you lift your rug to clean the area underneath. 
Additionally towards the end there are some tips on how you can fix the curling using household items you already have.To learn more about DIY keep reading.
Get a Rug Gripper or a Carpet Tape
Before we get to the guide there are some essential items you will need to fix your curled rug corners. Make sure you have at least either of the two.
A strong rug gripper like

X Protector Anti Curling Rug Grippers

(better)

A double sided carpet tape such as

X-LIFE Rug Gripper Carpet Tape
Steps on How to Fix Curled Rug Corners with Rug Grippers
1. Clean the area rug corner and floor surface
First and foremost, wipe down the rug backing and floor surface with a wet piece of cloth to remove any dirt or fabric. So that you have a clean and dry surface to place the rug gripper otherwise it will not be effective.
2. Peel the paper on each side of the stick
Make sure to carefully note the side marked floor and the one marked rug so that you stick appropriately.
The good news is that this rug gripper does not smell chemical and will not leave any residue on your floors
3. Stick the grips on the corners of the rug
Next you place the grips on the rug corners, one for each 4 feet of the rug for effectiveness. 
4. Place the rug back on the floor
Finally, place back the rug on the floor and press for about 30 sec for it to stick.Do not worry whether it will work for you because this rug gripper is non slip and is specifically designed for the following types of floors.
Wood

Vinyl

Marble

Concrete

Tile
Tips on how to fix curled rug corners
Durability of rug grippers is always a corner for buyers and it is good to know that X Protector Anti Curling Grippers are made for long term service. 
You will need to lift the rug once in a while to clean the surface underneath. It is good to know this is a high quality and renewable carpet tape with the strongest gel adhesive.For you to renew the sticky surface:
Wipe down the sticky surface with a wet cloth.

For full renewal rub the floor and sticky surface with alcohol.
DIY Alternatives 
If you are on a tight budget and are not looking to get a permanent solution to your curled rug corners you do not have to spend any money.The good news is that there are some methods you can undertake with household items in your home.
While these DIY alternatives are not permanent solutions, they will stop the curling for some time.
For instance, you could place considerable weight on the corners overnight such as books or furniture overnight.

You could

use double sided tape on the corners

too.

Instead of some professional steaming you could also place a piece of cloth on the corners, wet it with a spray bottle and iron it out to straighten the fibers of the rug underneath. 

And if you are too afraid of ending up burning your expensive rug, you could fold the rug on the opposite side and let it hold for a few minutes.
Conclusion
Who does not have a rug which just cannot lay flat on its corners? Or tripped over the curled rug corners. They simply are dangerous slipping accident traps in the waiting at home.
While you might have to spend a few dollars on anti curling grippers you get to fix this problem instantly and for good.However if you are looking to fix curled rug corners without spending a dime you could try the following.
Put some weight overnight on the corners.

Iron the rug corners with a wet piece of cloth on top.

Try curling the rug corners on the opposite side and hold for some minutes.