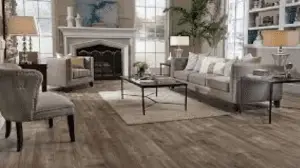 If you have laminate flooring in your home you know how hard it is keeping your area rugs from slipping and sliding on the floors.Laminate flooring is very sensitive to scratches and the only solution is almost replacing it all together.
Today I am going to share 3 safe ways you can undertake to keep your area rugs from sliding.These are 3 easy and safe ways to secure your rugs exactly where you want them on your laminate flooring.
The ways mentioned are easy and quick to install without needing a professional to undertake. What's more they are inexpensive and effective ways to secure rugs. Before you waste your money on expensive ways read on to know which one will be the option for you.
The most effective way is purchasing a non slip pad with rubber and felt backing which is durable and of high quality that will not damage your laminate flooring.This rug pad was specifically designed for sensitive flooring such as laminate hardwood and vinyl floors.
It is very easy to install and cut for a custom fit for any rug size. You only need to subtract 2 inches on the length and width of your area rug and cut the exact size for the rug pad.
This will prevent tripping from the edges of the rug.What's more?It will add some cushioning to an area rug as it is ¼" thick making you feel like you are walking on clouds.
And can be used in high traffic area rugs to reduce wear and tear to rugs and damage to the flooring and lengthen the lifespan of your area rug.Get this rug pad for your peace of mind knowing a non slip rug pad will prevent slipping accidents in your home from area rugs.
Consider buying a non slip rug pad if you are looking for a long term solution rather than a short time such as the next one we will cover.
If you do not have the budget right now to purchase a non slip rug pad then a double sided carpet tape is the option for you.A double sided carpet tape is a high quality and inexpensive option to use.It will keep your rugs in place and will not discolor your laminate flooring.
What's more?Importantly, this double sided carpet tape does not contain toxic chemicals which may affect your family in the long run.
I highly recommend this double sided carpet tape if you have several area rugs in your home and are looking for a cheap solution to stop your area rugs from moving.It is extremely easy to use and to peel off the floor plus it will not leave any yucky residue behind which is annoying honestly.
First and foremost you need to clean the bottom of your area rug and your laminate flooring.

Then stick the tape all round your area rug. DO NOT REMOVE the other side which has plastic on first.

Leave at least 2" space around the edges all round, cut accordingly using scissors.

Once you are done, remove the plastic all round and place back your area rug on the laminate flooring.
Do you hate how your area rug also curls in the corners on top of slipping off your laminate floors? Then a rug gripper is the one solution to these two problems.It will make your rug lay flat on the corners and secure it from sliding off your laminate flooring. 
Furthermore, you do not have to worry about the shape of your area rug because the design of this rug gripper can be used on a rug of any size and shape. You will only need one on each corner.
Worried about the effectiveness of this rug gripper? You do not have to. This rug gripper uses a super strong adhesive gel which is safe and will stick to your laminate flooring like a charm.
This particular rug gripper impressed me because it is reusable unlike other rug grippers which are rendered useless once the adhesive loses its power.
Final Thoughts
As you know, laminate flooring can be a pain especially when your area rugs keep getting out of place every time your pet runs on them.
You do not have to always be adjusting the position of your rugs. The three solutions we have covered are safe and easy ways to stop rugs from slipping on laminate flooring.
Use a non slip rug pad

Consider a double sided carpet tape

Get a rug gripper to secure corners.
If you are on a strict budget you can get the double sided carpet tape which is non toxic and effective.And for those looking to make a more long term investment then the non slip rug pad is what you should get.