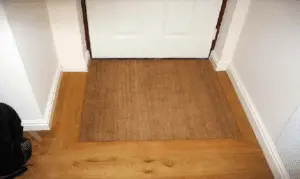 The market is flooded with door mats of all kinds of materials and designs but not all are safe for hardwood floors. Some will stain, discolor and leave behind residue on your floors. So you must be careful when shopping for door mats safe for hardwood floors.
It does not have to be hard shopping for a door mat that will trap all dirt and grime. You only have to consider the material , it should be absorbent and make sure the backing is safe for hardwood floors.
We have made your search easier and reviewed some of the best safe door mats used by homeowners with hardwood floors. They are functional, stylish and quality door mats and am sure you will find one for your entryway.
A Review of Door Mats Safe for Hardwood Floors
If you are looking for a super absorbent door mat that will trap dirt, mud and dust from shoes. You should definitely get the Beau Jardin Indoor Doormat simply because it simply works like magic.
Main Features
Super absorbent fibers.

It is made of super absorbent cotton fibers that are effective in scrapping and trapping in dirt and water from shoes, keeping your home sparkling.

Non Slip

. This doormat has a latex backing which makes it stay exactly where you place it. It will not cause any slipping accidents or slide around on your floors.

Safe for hardwood floors

. The doormat does not leave behind residue or discoloration on floors. The latex backing also makes it waterproof, keeping your floors from water damage.

Easy to Clean

. You simply need to machine wash, shake off dirt or hose it down when it gets super dirty. It may shade in the first washes so it's advised you vacuum before washing. For machine washing make sure it's in cold water on a low agitation cycle and do not use any fabric softener.

Low profile

. This means the fibers will not affect closing and opening of your doors. The edges don't get curved up and it lays down flat without bunching up.
My Verdict. The Beau Jardin doormat is functional and easy to maintain. Best of all it's available in 6 beautiful colors for matching your décor perfectly. And not only cleans dirt off shoes but for our four legged friends' paws.
---
See also how to fix curled rug corners
---
For harsh winters and rainy seasons you will need to have a waterhog doormat for your entryway. Most importantly it is not adversely affected by ice and salt. They do a good job at trapping snow, water and mud from shoes to prevent soaking your hardwood floors with water. 
Main Features
Materia

l. It is made of polypropylene material which dries up quickly and suitable for outdoor use.

Design

. It has a ridged pattern that makes it effective in storing dirt and water below shoe level to prevent dragging of mud and water puddles around the house. In addition it has reinforced rubber snubs to avoid it getting crushed in high traffic. This maintains its performance and extends its life span.

Non slip

. M + A waterhog doormat is certified as slip resistant by the National Floor Safety Institute. It stays exactly where you place it, no sliding on my extremely slippery floors.

Effective in trapping dirt

. It does a good job of trapping debris, mud and water from shoes – so no mud prints getting dragged around on my floors. It works well for snow and trapping water because of the raised rubber dam that can trap 1.5 gallon of water

Super easy to clean and maintain

no hassle- you can vacuum clean it to get any trapped dirt in the grooves, once in a while you can hose it down outside for a deep clean especially during mud season.

Size

.It is available in several sizes, got a 4 * 3 for the front door, large enough for someone to take at least two steps before stepping on the wood floors. What's more it's available in over 15 colors for your choosing.

Durable

. It withstands harsh sludge , snow and salt from shoes – it does not get hard and cracked from the harsh weather.
My Verdict. If you live in an area that receives harsh weather, then this waterhog doormat is a must have.  It can withstand harsh weather and is effective in trapping dirt and water from shoes.
---
See also Will Jute Rugs Scratch Hardwood Floors
---
Unlike the two doormats above, this is a brush step mat that is effective in scrubbing dirt off shoes and pet paws. It also has a vinyl backing that is safe for floors that are affected by rubber or latex backing.
Main Features
Material

It is made of poly fibers which are effective in trapping moisture and the vinyl backing waterproofs your floors from water damage.

Design

It has a low high design that makes it effective in getting into the sole thread shoes for simple cleaning and drying. It traps water, dirt, mud and snow well to keep floors clean.

Durable

. It is made of poly fibers similar to those used to make carpet. It is durable and of high quality.  You can use it at home or in the office and work well in medium traffic.

Pet friendly

. You can use it for your dog bowls to protect carpet from food and water spills. It is also effective in cleaning dog paws and is durable to withstand everyday use for active dogs. It withstands staining and scratching.
My Verdict. If you want to keep your home free of debris and pebbles that cause scratches on hardwood floors. Then this Notrax brush step doormat is for you. It is effective in cleaning through sole threads.
---
See also How to Stop Rugs from Slipping on Laminate Floors
---
Conclusion
For homeowners looking for safe doormats for hardwood floors then your search ends here. For an everyday doormat you should get the Beau Jardin doormat and for harsh winters consider a waterhog mat. Am sure you found something to match your home from those reviewed above.