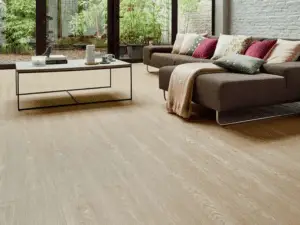 If you just installed new vinyl plank flooring in your office and are using rolling desk chairs then you need to take precautions to avoid ruining your expensive floors.
Although vinyl plank flooring is tough and resistant to scratches. An office chair with rolling wheels can leave behind impressions and indentations overtime. This is due to friction from gliding the wheels around leading to wearing out of your flooring overtime.
In turn it will lose its shine and will look worn out and will require replacing for the damaged planks. Which is why you need to protect your expensive vinyl flooring from getting damaged and have it looking new for longer.
Best Options of Protecting your Vinyl Floors
Vinyl Plank Flooring Chair Floor Protections
Let's take a look at the options available that are safe to use for your office chair on vinyl flooring to avoid ruining your floors
If you do not want to leave behind marks and grooves from plastic rolling chair wheels on your vinyl plank flooring, settle for Felt casters for office chair floor protectors. You will feel much more at ease knowing your new luxury floors will not get dented by plastic or stained by rubber casters.
Felt is a safe material to use on vinyl flooring, it is a textile material made from compressing natural fiber materials such as wool or synthetic fibers from petroleum based products.
Main Features
Very easy to install – they pop right on without much hassle, only need to take off old and put the new on.

With these on you will not swivel around like ordinary rolling wheels because vinyl tile is very slippery.

They can move easily, you just need to push with your foot.

Are very durable and can withstand heavy use- maximum weight 375lbs

They are much better than having a chair mat under your floors.

The best part is that it has no trace of rubber in it, meaning it is very safe for vinyl
---
See also Non staining rugs for vinyl floors
---
For someone looking for a more steady surface and thicker protection for their vinyl flooring a thick chair mat made from material that is safe for vinyl floors is what you need.
Main Features
It is a crystal clear chair mat, which means you still get to see your beautiful new vinyl flooring right through it.

The chair mat is ⅛" thick which means it provides solid protection for your floors that will last you a long time.

The quality of the chair mat is second to none and the price affordable.

It does not move an inch and you can glide on your rolling chair without worrying about topping over.

It lays down flat- although it comes rolled up.
---
See also Can you use rubber backed rugs on vinyl plank flooring
---
If your office chairs are made of standard plastic wheels which are hard to glide on, getting polyurethane wheels will instantly upgrade your chair function.
Main Features
They are well made and durable- the armature is made from steel and diameter big enough for it to roll over carpet or a plush area rug.

You get to swivel nice and easy on your floors when you need to.

Polyurethane is safe on vinyl floors, it will not discolour or stain your floors like how rubber wheels would.

They can support heavy weights well upto 650lbs.

No more noise from sliding on your floors, you get a smooth and silent 

It's modern and stylish, just a nice pair of wheels for your office chair.
Unlike all the options above a solid area rug underneath will not only provide protection for your vinyl flooring from rolling chair wheel but so much more
Main Features
A soft and warm place to place your feet as you work on your projects

It adds to the decor of your office .

The cotton backing is safe for vinyl and because you cannot use rubber backed rugs on vinyl flooring.

An area rug is large enough to fit your work table and chair. You can glide around without falling off an edge and have to lift your chair back on.

Very easy to clean and maintain by vacuuming.

It is a short pile rug which means your chair wheels can glide easily on it without much hassle.
---
See also Are polypropylene rugs safe for vinyl floors
---
FAQs Office Chair on Vinyl Plank Flooring
What kind of chair mat should be used in office with vinyl sheet flooring?
The chair mat to be used in an office with vinyl sheet flooring should not contain any rubber or latex backing. Otherwise the rubber will discolor and stain your vinyl floors overtime. Good options to look at include glass chair mats or crystal clear glass look alike materials such as this one here.
Will rolling office chair dent vinyl flooring?
Rolling office chair can dent vinyl flooring overtime due wear and tear from friction as you glide around. However, using a chair mat safe for vinyl flooring will protect your floor from dents.
How to protect vinyl flooring from office chair
You can protect vinyl flooring from office chair by using a chair mat, a rug or using felt casters rather than plastic ones.
Conclusion
As we have discussed, having an office chair on vinyl plank flooring will slowly but surely leave behind indentation and groove marks on them. It is better for you to take precautions and save your expensive flooring from getting ruined. 
Options available for you include:
Felt chair caster

s to replace gliders and protect your floors.

A

thick chair mat

which is long lasting and clear so that you can still see your beautiful vinyl flooring underneath it.

Replacing your plastic chair wheels with

polyurethane wheels

that glide more easily and durable made with steel armatures.

You can also get a low pile area rug to place under your office chair