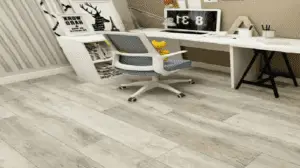 If you just installed new vinyl plank flooring in your home office and are using a rolling desk chair then you need a chair mat for it.
This is because overtime a rolling chair will definitely cause dents and scratches on your floors because of wear and tear due to friction.
Placing a chair mat under your office chair on vinyl plank flooring is the best option to go for the case where your rolling chair has rubber wheels.
This is because friction between the rubber and your vinyl leads to a reaction between chemicals used to make the vinyl tiles and the rubber leading to discoloration and sticky residue.
However when shopping for a chair mat for vinyl plank floors you have to be very careful. Because some chair mat materials such as rubber or a latex backing will cause discoloration.
We have made your search even easier and reviewed for you safe and functional chair mat for your vinyl plank floors. Read on to pick the one that picks your fancy.
---
See also Non Staining Furniture Protector for Vinyl Floors
---
A Review of the Best Chair Mat for Vinyl Plank Floor
A chair mat without any rubber or latex is generally safe for use on vinyl plank flooring and the backing should be non-slip to keep it anchored on the floors.
If you are looking for a durable, zero waste chair mat that you can still view your beautiful vinyl flooring underneath. Then you should definitely go for this Crystal Clear Heavy Duty Chair Mat which mimics real glass.
Main Features
Size and Thickness

It is thick and heavy compared to chair mats of the same size. It measures 47 in by 35 inch by 0.2in ( length ,width and thickness).

Suitable for hard floors and carpet

. The chair mat lays completely flat and cannot be folded and does not curl up. It works perfectly on any surface and is heavy like a glass chair mat.

Super beautiful

. This chair mat is clear which allows you to continue to admire your beautiful vinyl floors. And it matches seamlessly with any room décor because of the neutral color.

Heavy Duty and Durable

. The material used can withstand 1200lb pressure and is very durable .And the thickness makes it super durable too.

Worth every penny

. The chair mat is worth every penny and comes with a 1 year warranty. You want to buy a product the manufacturer is confident enough to stand behind.
My Verdict. If you are looking for a chair mat that is of high quality, can withstand 1200 pounds of weight and is durable. You should definitely take this one home with you.
---
See also How to Protect Vinyl Plank Flooring from Office Chair Damage
---
For those of use who want a chair mat with texture for rolling chair casters. Take a closer look at this Upgraded Sallous Chair Mat  that is without any rubber or latex and is safe for use on vinyl plank flooring. It also has a non-slip resin backing to keep it anchored on the floors that will not stain or discolor your floors.
This chair mat will protect your floors from rolling casters, which most vinyl flooring installers advice to protect vinyl from.
Main Features
Material

.It has a 100% polyester top which makes my rollers glide easily on the surface without much hassle or skidding. The chair mat is safe for use on all types of floors- hardwood, laminate, vinyl and bamboo.

Non Slip

. The bottom surface is non-slip, so I am not worried about the chair mat slipping on my floors. The backing is made of acrylic resin which is safe for vinyl floors and it has not discolored or stained my vinyl.

Versatile

.It arrived rolled up but laid down flat, no creases, no curling. Best part is I can roll it up and store it away when not in use and it does not lose the sticking effect on the floors.

No Smell

. This chair mat does not smell and is made of non toxic materials

Stylish.

The chair mat looks stylish and color matches any room décor, dark grey and dark blue. And is available in two sizes, the one I got was just perfect for my office chair.

Easy to use

. It was very easy to install and use. You only need to remove the film on the bottom and stick to your floors. The chair mat works perfectly, it does not bunch up at all or wreck havoc to my chair wheels.
My Verdict. Get this chair mat if you want to protect your vinyl floor wear and tear from my rolling chair wheels. You can easily remove it and clean my flooring when I need to without isolating the area with dust or pet hair. It is of high quality and fair priced at the same time.
---
See also Non Slip Rugs for Vinyl Floors
---
Conclusion
As we have discussed chair mats that are safe for vinyl plank floors are those without rubber or a latex backing. For a durable and high quality chair mat that is crystal clear and thick. Go for the Mu Arts Store Cystal Clear Heavy Duty Chair Mat.
It can withstand about 1200 pounds of weight, will allow you to still view your stunning vinyl floors and it comes with a 1 year warranty. What's not to love?