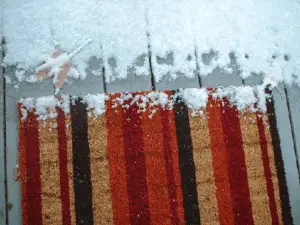 For areas such as New England you need to get the best doormat for snow that is able to work effectively under such crazy weather. And that is none other than waterhog doormats.
This is because they have a water dam to hold in water hence they don't get soggy from snow melting and are also not adversely affected by salt or ice melt.In addition, waterhog doormats are made from durable rubber or polypropylene fibers which are effective in cleaning dirt off shoes. 
But you do not have to worry about shopping for one suitable for your home. We have rounded up both indoor and outdoor doormats suitable for snow that are durable and super easy to maintain.
Check Out Our Top 3 Picks
Review of the Best Doormat for Snow
For you shopping for a doormat that can trap both water and dirt effectively for your house, look no further than this Waterhog Fashion Doormat made from polypropylene fibers with a fabric border. It has a waffle design with rubber reinforced snubs which makes it crush proof against scraping action hence durable for high traffic areas.
More importantly, it has a bi level design such that dirt and water remain below show level. Which helps avoid tracking of water puddles and dirt shoe prints around the house. Best of all it  dries quickly, it is fade, rot and stain resistant and can be used both as an indoor or outdoor doormat.
We highly recommend this waterhog doormat for snow weather areas.It is not adversely affected by salt or ice melt. When wet the raised rubber snubs allow water to settle at the bottom of the mat away from foot traffic giving a slip resistant surface. And has  non slip rubber backing too, get it at your size of choice form the 4 available.
---
See Also Best Doormat for Wood Deck
---
These Eco Premier waterhog doormats are made from repurposed plastic drink bottles with a non slip backing made of rubber reclaimed from used tires. It has a diamond pattern that is bi level deep grooves surface effective in scraping dirt from shoe threads. And a raised rubber edge all round capable of holding 1.5 gallons of water keeping your floors dry and safe.
For those who value aesthetics as much as we do, then you have 8 colors to choose from. More importantly, the doormat is faded, rot and stain resistant. In addition, it dries quickly and for snowy areas , melting ice from shoes won't be an issue.
We strongly recommend this doormat as it gives the heft you would expect from a commercial quality mat for public buildings. It stays put and is super easy to clean by vacuuming. With the kind of value this mat provides, it's worth every single penny you will spend on it- it's built to last long.
---
See Also Best Entryway Rugs for Winter
---
Are shopping for a waterhog doormat on a tight budget? Then look no further than this Waterhog Rubber Fashion commercial grade doormat which is available at such a steal price. You can choose from the  colors available in more than 5 colors to match your style and preference.
It is made from styrene butadiene rubber with a non slip backing and is suitable for both outdoor and indoor use. It has a unique ridged construction which is effective in scraping dirt off shoe threads and stores it below surface level. With reinforced rubber snubs that will not crush under heavy foot traffic.
Most importantly, it's not adversely affected by salt and ice melt. Highly consider this doormat if you aren't looking to spend a chunk of money but still need a durable and effective mat perfect for snow.
Gorilla Grip brand is well known in the doormats market for their durable doormats. And this Gorilla Grip Natural Rubber Doormat is no different. It is made from 100% natural rubber backing and borders with nicely woven polypropylene fabric. 
The rubber border is beveled which helps create a retention dam to trap in water and dirt. The polypropylene fibers are also raised to trap with patterned grooves to clean well in between shoes and keep the dirt below surface level.
This is a versatile doormat available in more than 40 colors and sophisticated design perfect for any decor. The sleek low profile design makes it perfect for low clearing entryways. Best of all cleaning and maintaining this doormat is a breeze. You can vacuum it, hose it down, wipe dirt off with a wet cloth or shake off dirt. It has everything you could ask for really!
---
See Also Best Doormat for Pool Area
---
Conclusion
Looking for the best doormat for snow can quickly get frustrating if you do not know the features to look for. Because getting just any doormat for the winter will not cut it. But a waterhog doormat will be perfect, it is not adversely affected by salt and ice melt.
That is why we highly recommend this Eco Premier waterhog Doormat.It is made from recycled materials hence eco friendly, has a waterdam to hold in melting ice from shoes and has a non slip rubber backing.
Best of all it is super effective at cleaning shoes because of the deep groove pattern. You cannot go wrong with this doormat, it will help keep your floors dry and clean and will outlast any winter season for sure.