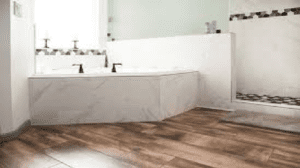 If you are looking for bathroom rugs safe for vinyl flooring we got you covered. The no rubber restrictions for vinyl floors can be overwhelming especially when shopping for bathroom rugs. 
This is because most bathroom rugs in the market today are made of latex or rubber backing to make them non-slip. Which makes it overwhelming to look for rugs which adhere to the strict rule because you cannot use rubber backed rugs on vinyl floors because they will end up ruining your expensive vinyl floors.
Lucky enough there are bathroom rugs safe for vinyl flooring which will not discolor or stain your vinyl floors. Most importantly they are non slip, absorbent and do not have a rubber backing.
Quick List of Top Bathroom Rugs Safe for Vinyl Floors
An Important Word about Bathroom Rugs 
The rug backing which is safe for vinyl flooring is one which does not contain any trace of rubber on it. Rug backing to avoid for your bathroom rugs include the following.
TPR or TP non skid backing which stands for Thermo Plastic Rubbers

Latex backing

SBR-styrene butadiene latex backing
Whether you are looking for a plush rug for your bathroom or a rug which will not slip on your vinyl floors this rug is Plush Chennile Rug is for you.
Main Features
Non Skid Backing. Its hot melt adhesive technology backing is safe for vinyl floors. This is because vinyl flooring is a synthetic plastic material which works well with hot melt adhesives such as the one used in hot gun glues. This is a new spray technology which keeps the mat dry and fresh.
Easy to Care: They are machine washable and only need to be put in a mild cycle and then into the dryer to remove moisture. And they do not lose a lot of fiber and still remain fluffy afterwards.
Super Absorbent it is made of plush chenille material which is super absorbent which quickly soaks up water to keep your floors dry and safe to step on.
Extra Soft and Plush. They feel so soft under your feet once you step out of the shower. This is because the material is thick and bushy.
Super Stylish. There is a wide variety of colors to choose from to fit any bathroom decor. And the colors come as seen in the photos, very cute and beautiful to bright up your bathroom.
High Quality. These bathroom rugs are simply indestructible, do not worry about your dog messing it up. Plus they do not lose a lot of fiber in the wash.
---
See also Door Mats Safe for Vinyl Floors
---
Cotton rugs are safe for vinyl floors because they do not contain chemicals which could discolor or stain your expensive floors. They are also double sided and you can flip it on the other side when the other starts looking a little dirty.
Top Features
Super Soft. The rug is made of 100% cotton material which makes it very safe for vinyl floors. It does not have any kind of rubber or latex backing to make it non slip. Which makes it super  soft to step on and warm too.
Reversible. The reversible design makes it very versatile, you only need to flip it on the other side if one gets a little dirty. You can choose which kind of texture and feel you like. One side has a low pile and the other a plush cut pile. Even though it does not have a non slip backing , it does not slide around your bathroom
Super Absorbent. The plush construction makes the bath rug super absorbent if water falls on it.
Very Stylish. These reversible cotton rugs are available in many colors that are bright and vibrant to brighten up your bathroom.
Machine Washable and Dryable The best part they are machine washable and dryable. Which means you can throw it in the washer with your regular bath and hand towels. Consider washing it by itself first because it will shed a little and you wouldn't want it to get to your regular towels.
Perfect Size. These rugs come in perfect sizes to put outside your showers and bathtubs.
---
See also Rug pads safe for vinyl floors
---
Some homeowners prefer bathroom rug sets that are matching to keep the decor in the bathroom to the minimal. That is we strongly recommend this bathroom rug set with a PVC anti skid backing which is safe to use on vinyl flooring. 
This is because Vinyl flooring is composed of PVC polyvinyl chloride and the rug backing will not mess your floors.
Top Features
PVC Anti Skid Backing. The rug set is non slip and safe to use on your vinyl floors. Which means it will not be floating around your bathroom and will be safe to step on too.
Super Absorbent Microfiber Material The material is super absorbent chenille material that is high pile and thick. It soaks in water 
Very Soft. They feel very soft on the feet , super warm and comfortable to step on once you're done soaking in your tub or taking a long refreshing shower.
Pet Friendly Because they are soft and plush pets love lying on them and you can get one for your cat or dog.
Vibrant Colors. It is also available in very vibrant colors to brighten a rather dull bathroom easily by giving it color.
Different Sizes. You can purchase the rug at the size suitable for your bathroom.
Inexpensive. The rug set is high made of a high quality material, durable and yet inexpensive at the same time.
---
See also Kitchen rugs safe for vinyl floors
---
Conclusion
As we have discussed, rubber backed non skid bathroom rugs are a no-no for your expensive vinyl flooring. This is because they will stain, discolor and leave sticky residue on your floors.
We have recommended super absorbent, non slip and easy to maintain bathroom rugs safe for vinyl floors. Am sure you can get 1 or 2 that will match perfectly with your floors and keep it dry at all times.