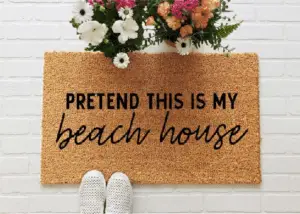 Getting the best doormat for beach house is a hassle in this market that is flooded with different types of doormats. That is why you have to be careful when shopping because you need a doormat with features to remove sand from shoes.
Importantly, the material should be able to withstand humid climates so avoid natural fiber doormats like coir although its good at trapping sand, its rough on bare feet and not long lasting. Instead go for rubber or polypropylene. The design should have bristles to enable easy brushing of shoes to get into the shoe threads to clean of dirt and sand.
To make your search way easier we have put down this review for you. They are stylish, easy to clean and durable doormats for your choosing. We are sure you will find one that will match your decor and style.
Check Out Our Top 3 Picks
Review of the Best Doormat for Beach House
If you are tired of tracking in sand from the beach, get this Clean Machine Astroturf Dirt Trapper because it is built for it. It is made from dense artificial grass fibers which are able to trap 1 pound of sand per week below the surface. And can work as both as an indoor or outdoor doormat.
It is fade, mold and mildew resistant which makes it perfect for humid areas. And best of all it is super easy to clean and maintain. You can choose to shake off dirt from it or rinse with a garden hose for a thorough clean.
Highly consider this doormat if you are looking for a durable, easy to maintain, super effective doormat to remove beach sand from shoes. It is non-slip with a rubber backing and heavy enough not to be carried away by strong winds.All you ever need a doormat to do really.
If you are looking for a low pile doormat that will remove sand from your flip flops then this Notrax Brush Step Entrance Mat is what you should get. It has a brush step design with a unique double rib high/low design which helps it get in between the sole threads of shoes for getting rid of sand particles.
It is made of poly fibers which are also soft to feel on bare feet and one can walk comfortably on it too. Best of all, it is super easy to clean and maintain by vacuuming because of the low minimalistic design. Importantly, it has a vinyl backing which makes it stay put and also avoid slips or falls.
We highly recommend this doormat if you are looking for a durable, low pile and effective doormat that will keep your floors clean from beach sand. And it is available in different colors and sizes for our choosing.
---
See Also Best Doormat for Pool Area
---
For those looking for a waterproof, low profile and easy to maintain doormat for their beach house, consider this Gorilla Grip Plastic Doormat for your indoor or outdoor. It has a mesh weave construction design that is effective in collecting sand from shoes.
Best of all, is how low maintenance this doormat is. You can choose to simply shake off the sand and dirt, vacuum with a handheld vacuum or hose it down for a deep cleaning session.
The material is waterproof and can withstand humid temperatures, so no disintegration like coir doormats. This is the kind of doormat to get if you are looking for an all season doormat for your beach house. 
The Sierra Concepts doormat will ensure your floors are sand free even if you're on a tight budget. They come in a pack of two at a practically inexpensive price giving you great value for your money.
It is a rugged ribbed polyester doormat which allows you to scrape off all sand from shoes. It can work both as an outdoor or an indoor doormat and has a heavy duty rubber backing to ensure it does not slip around or let water through to your floors.
And you can simply shake off, sweep with a broom or hose it down when it gets a little dirty. Look into getting this doormat if you are not looking to spend much but still want to get a stylish and functional doormat to keep your floors free of sand and gravel.
---
See Also Best Doormat for Wood Deck
---
For the sake of lovers of coir doormats, we have to include this Liora Manne Coir Doormat with a vinyl backing. They are available in a myriad of designs for your choosing from classic, inspirational to nautical patterns.
It is made from 100% natural coconut shells for strength and durability. However, you must keep it out of standing water and allow it to dry thoroughly. In addition, consider using it under a sheltered area in order to prolong life.
This coir doormat is easy to clean by brushing, shaking off or vacuuming. This doormat can be a good present for a friend who lives at the beach and loves wearing flip flops. The size is generous for your beach abode and the price super friendly.
---
See Also Best Outdoor Doormat for Rain
---
Conclusion
The best doormat for beach house will not only spruce up your beach abode but keep that beach sand off your floors. And it does not have to be hard getting one that will work for you.
The most important feature to look out for is the design. It should have texture to be able to trap in sand from shoes or flip flops. In addition ,the material should be durable and withstand humid climates.
We highly recommend Clean Machine Astroturf Dirt Trapper which has bristles for cleaning in between shoe threads and capacity to trap in 1 pound of sand. It is easy to clean and maintain with a non slip backing to place it exactly where you place it.