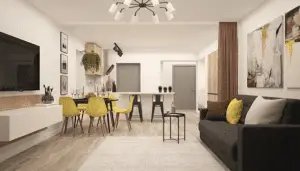 For homeowners with vinyl floors you must be careful when selecting area rugs for your floors because of the no rubber or latex backing rule. Otherwise you can end up getting rugs that will discolor or stain your floors.
The only area rugs safe for vinyl floors are area rugs with backing without rubber, natural fiber rugs such as jute, cotton and wool. Most importantly for any area rug you should get a rug pad underneath too.
The rug pad is to protect your floors and make them non slipping because vinyl floors are extremely slippery. More on that later but first, let's take a deep dive at area rugs that won't stain or discolor your floors.
Area Rugs Safe for Vinyl Floors
Cotton Backed Area rugs
Cotton backing is safe on vinyl flooring because; cotton backing is soft and will not scratch vinyl floors. Two it will not also trigger any chemical reaction with the additives used to make vinyl floors to cause any discoloration like rubber or latex backing does.
Unique Loom is known for making cotton backed rugs such as this Unique Loom Del Mar Contemporary Collection. It is a low profile polypropylene rug with a cotton backing which is safe for vinyl plank floors.
Quite simply- am in love with this area rug! It is one of those rare instances where the area rug looks so much better in person than it does on the online pictures.
Main Features
Super Beautiful

: The colors are vibrant and so warm-the color gradation is great. We highly recommend the blue-navy blue color, it's a classic color. It is also available in gray-white, red-white and purple white. I am sure you will find one which matches your décor seamlessly.

Stain Resistant

. With two toddlers who spill almost everything around, am glad it masks stains. For home with pets this will work perfectly too in hiding dirt.

This rug has taken some major abuse in our house- two dogs who love running around the house and two active toddlers and it still looks beautiful.
Easy to clean:

Vacuum clean it once a week with the grain and it looks beautiful as new one year on.

Silky Soft

. It is beautifully soft to boot- you will love how it feels under your bare feet. Best of all if you have dogs they will enjoy lounging on it too.

Safe Cotton Backing

. It has the cotton cushioning underneath, so it's not a thin rug by any means. If you like you can put a rug pad underneath it to anchor it to the floors -though it's not necessary.

The cotton backing is soft -so no scratches overtime on the floors and safe for my vinyl floors- no discoloration on them.
It does not slide on  floors

: which is great because vinyl floors are extremely slippery but you will not need a rug pad underneath it. It also lays perfectly flat on my vinyl floors- no bunching, creases or curling on the corners.

Worth the money

. It was pricey but so worth every penny you spent on it- actually you felt like you should have paid more for it because it looks so luxurious on my vinyl floors. It is well made and of high quality
My Verdict: If you are looking for a high quality area rug that is not cheap looking and safe for vinyl flooring then this area rug is exactly  what you need.
---
See also Rug Pads Safe for Vinyl Floors
---
Hand Woven Cotton and Wool Rugs

 
Woven natural fiber rugs are safe for vinyl floors. Most importantly most of them are dyed with natural dyes which will not react with chemicals  in vinyl floors to cause any kind of discoloration or staining overtime.
They are also reversible and machine washable which makes them very easy to clean and maintain.
Take a look at these hand tufted wool rugs that are fairy prices and super beautiful. They elevate a room instantly giving it that luxurious look and feel.
Contemporary Rivet Wool Area Rug
It is made of 80% wool and 20% cotton and comes in a beautiful neutral toned color to match any room décor. It is hand tufted with a textured pattern, it's also a high pile and meant for indoors.
Main Features
The word for this area rug is its gorgeousness. It's well made with a contemporary and high pile look. It has a texture, pattern and softness.

It is super easy to maintain by vacuuming weekly, no fading, no fraying.

The quality actually surpassed my expectations- looks more expensive than they are priced, well made and of high quality
My Verdict: If you have been looking for a fairly priced wool rug to decorate your space, this is what you should get. It comes in a neutral color to match any room décor and is super easy to maintain.
---
See also Rugs Safe for Luxury  Vinyl Floors
---
Handmade Jute Rugs
For homeowners looking for natural fiber rugs, jute rugs are what you should consider. Although jute backing is scratchy , you can get a rug pad for it to protect your floor.
For example this nuLOOM hand woven jute area rug  which is available in 4 colors, neutral, off white, navy and black. It is well made and each carries its own unique characteristics.  Best of all the colors are super easy to match in any room. You only need to shake off dirty rather than vacuum it to reduce shading of fibers.
My Verdict: Jute rugs are popular and are an essential in any home. They are easy to care for and fairly priced.
---
See also Kitchen Rugs Safe for Vinyl Floors
---
Conclusion
If you are looking to decorate your vinyl floors further just make sure the rug backing does not contain any rubber. For safe area rugs for vinyl floors consider cotton or jute backed rugs.
Handmade cotton and wool rugs are also safe but highly consider getting a rug pad for underneath it. Rug pads provide cushioning to reduce wear and tear. They also protect your floors from scratches and provide anti slipping features.