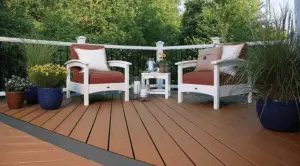 Although composite decks are more durable and resistant to rotting unlike wooden decks. You must be careful when shopping for an outdoor rug for your deck.
Outdoor rugs that are safe for composite decking are mostly synthetic such as polypropylene or recycled plastic. Avoid natural fiber rugs such as jute as they tend to be scratchy and rugs with a rubber backing.
This is because a rubber backing will discolor and stain your deck overtime as a result of a chemical reaction triggered as a result of exposure to sunlight. If you are looking for safe outdoor rugs for your composite decking consider these we have selected for you.
Outdoor Rugs Safe for Composite Decks
Synthetic material rugs such as woven polypropylene rugs, polyester and recycled plastic are safe for composite decks, can withstand the harsh outdoor conditions such as rain, are also super easy to clean, stain resistant and are treated to be fade resistant. 
If you are on a budget and are looking for a high quality outdoor rug that is safe for a composite deck, then this polyester rug is for you. It is a machine made and has a polypropylene backing which will not stain or scratch your deck.
Main Features
Material

It is made of a polypropylene material which is perfect for high traffic areas. It will withstand wear very well and great for children and pets.

Versatile design

. This trellis area rug collection is available in round, square standard and round design to match the décor you're going for your decking. Plus there are several colors to choose from too.

Easy to clean and maintain

. You can simply sweep off leaves and dirt from it with a broom. Wipe off messes with a damp cloth, hose off or vacuum clean. Best of all it is stain resistant.

Price

. This rug is worth every penny as it's a high quality, modern contemporary design made at an affordable price.
---
See also Will and Outdoor Rug Damage a Wood Deck
---
For those looking for a stain and fade resistant outdoor rug that will retain its vibrant look through hot summer days, this polyester rug is what you should get.
Main Features
Super beautiful

. It looks so stunning, the bold design just makes a statement on the outdoors, to say i love this rug is simply an understatement. It looks exactly as shown in the picture, actually it looks so much better in person.

Super easy to clean and maintain

. You can hose it off with a garden hose or simply wipe with a damp cloth, it dries quickly  and it is as good as new again.

Safe backing

. It has a soft and safe mesh woven polyester backing that does not scratch or discolor composite decking.

Dries quickly

. It resists moisture which is so great, after a perfect storm overnight, the rug is dry in the morning- it does not soak in water.

Colorful

. It is available in such cool colors that are warm and inviting: dusty- blue, faded -red, golden- yellow, leafy-green, shadow- gray and soft- teal. Got mine in the shadow gray and am sure you will get a color to blend perfectly with your outdoor furniture and décor.

Stain resistant

and with a toddler who spills spaghetti sauce sometimes and is so happy to announce the white does not stain at all.

Fade resistant

which is such a big plus for me because we live in an area that receives harsh sunny weather.

Storage

. It also rolls up easily for storage , you can put it away during the winter months when you will not be using the deck as much.

Material.

It is well made and of high quality polyester material which makes it long lasting and gives great value for money. It also will not slide off, curl on the corners or crease up and you do not necessarily need to put a rug pad underneath it

Versatile and functional

piece you can get for other places for your home for instance it makes a good mudroom rug or as a rug for your dog's plate

Price.

It is also very affordable and I actually got another to use in my kitchen since it's water resistant and easy to clean… what more could one ask for really?
---
See also Outdoor Doormat that Doesn't Hold Water
---
If you are looking for an outdoor rug that is reversible then recycled plastic is exactly what you need.
Main Features
Material

. It is made of plastic material which drains water when it rains so no moisture builds up underneath your deck. Dries very quickly  after a storm. 

Easy to clean and maintain

by hosing or wiping with a damp cloth in case of spills. It does not show any dirt really so is very low maintenance , you can sweep or blow off leaves from it in case of dirt.

It is also reversible

and for the life of me – you may fail to decide which side you love the most. You can change up the look of my deck by just flipping the other side- it's like getting two rugs for the price of one!

Storage bag

. It also comes in a cute storage bag for when you want to carry the mat for a picnic or the beach or store away during the winter

Available in vibrant and stunning pattern designs

which brighten up a rather dull deck so effortlessly. And also very soft to step on and my two dogs approve too because they love laying down on it

Durable.

It is also made of a durable material which can withstand outdoor weather and will not fade over time

Safe to use on composite decking

, it will not discolor, stain or scratch it and is well priced
---
See also Outdoor Rug that Doesn't Hold Water 
---
Conclusion
Well, once you start decorating your composite deck, an outdoor rug is the first thing to get. And it must be made of a safe material which will not stain or discolor it over time.
A woven polyester or polypropylene  outdoor rug is a good option because it can withstand tough outdoor weather and can be cleaned by hosing off. If you are looking for a reversible design rug then a recycled plastic rug is your best bet!