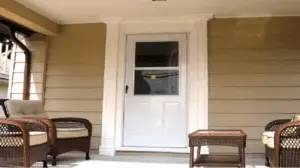 After using regular door mats on my front door that trapped water my wooden deck started showing signs of mold. That's when we decided to hunt for a door mat that doesn't hold water.
In this article we have reviewed for you durable and cute designs that combine the wrought iron pattern with plenty of open spaces to wipe off dirt and mud. Best of all they are made of recycled rubber and tyre links which not only durable but can withstand harsh outside weather.
Quick List of Top 3 Picks
Review of Best Outdoor Doormat That Don't Hold Water
If you are looking for an outdoor doormat that will not only let water through but clean mud and debri from your shoes. Look no further than this Durable Corporation Dura Rug made from recycled tire links. The tire links are joined together with galvanized steel wire that makes it strong for heavy use environments and will not rust either.
The top surface is buffed to give it a fabric like material effective in cleaning dirt off shoes. Best thing it dries quickly and still maintains good traction even when it freezes. This doormat is also non slip and made from heavy duty material and wont be blown away by windy weather.
And cleaning and maintaining it is easy, simply hose it down clean.  We highly recommend this doormat if you are tired of waterlogged doormats that take days to dry off. This doormat is durable, with efficient drainage, dries quickly and cleans off dirt from shoes effectively. You cannot go wrong with this one!
Durable Corporation have been making doormats since 1923 so it is no surprise for them to make a second appearance on this list. Their doormats always remind me of those doormats we saw in our grandparent's house growing up.
For those looking for a more aesthetically pleasing design then this Herringbone Durable Corporation Recycled Tire -Link design will be best suited for you. It is made from heavy duty tire links and will not be sliding around on your front door. And can easily be lifted up to clean dirt underneath or rolled up for storage.
If you are looking for a solution for an area in your front door that collets water, then consider this doormat. It is high enough to prevent tracking in of water puddles and heavy enough to stay put in a windy storm. Best of all it will last you years to come, giving you value for your money.
For those on a strict budget, then a thick rubber mat that doesn't hold water and can withstand blustery days outside the DII Lattice is what you should get for your porch.
Main Features
Material

: It is made of a very durable recycled rubber that is chemically treated against rotting and mildew growth. It will not disintegrate when exposed to rain, heat or humid conditions. 

Design

: It has a cute lattice design which will allow water to drain away and hole to let dirt go through easy. The rubber is raised so the dirt won't get dragged into the house.

Size

: It is available in 3 sizes , the smallest being 18" by 30" which is large enough and  easy to pick up and sweep the dirt away.

Easy to clean

. This must be the easiest door mat to clean and maintain in the history of door mats because debris goes through it, water too. And because it is fairly light to yank off and sweep the dirt underneath…if any gets trapped in between you can hose it off with a garden hose and it is good as new!

Inexpensive.

The doormat is truly inexpensive and of high quality. You get great value for your money too because you can use it all year round.
My Verdict: Highly recommending this door mat for a porch with no roof, it lets water through, very sturdy, doesn't slip around and not a pain to look at either.
---
See also Outdoor Rug That Doesn't Hold Water
---

If you value aesthetics as much as we do, then you will love this Kempf rubber scroll mat for your front door. It has a beautiful scroll faux iron wrought design which is attractive and welcoming.
Main Features
Non slip:

It does not slip , slide or move on all kinds of flooring – be it wood, concrete or composite decking. The rubber anchors to any surface extremely well.

Durable material

: It sits on my back deck which is uncovered and is handling very well binge exposed to the harsh outside weather.

Scrapes off dirt

: It does a fantastic job of scraping dirt off shoes while allowing for efficient water drainage. It does not only trap any water but debris too…because all door mats that I had in the past would get slimy underneath

Size and weight

: It is lightweight and easy to pick up to clean the debris underneath it. It has not budged despite being outside on blustery days or blown away by strong winds

Great for all kind of surfaces:

from wood and even composite decking which can get a little slippery when wet

Easy to maintain

, rain goes right through it, it doesn't collect dirt, just picks up, hits it and it's clean.

Inexpensive

. It is so well priced because other similar products to this are so very overpriced. 
My Verdict. This doormat looks great and ties up a porch very well, not cheap looking at all. It does a fantastic job of removing dirt from shoes while allowing efficient water drainage.
---
See also Door Mat Without  Rubber Backing
---
The one word for this doormat is that it looks GREAT. It is a good looking half moon design scroll doormat to add some element to your front or back door, your porch and deck.
Main Features
Design.

The design is elegant and perfect because it lacks the rectangular corners that easily curl up and trip people over.

Size.

It's a good size for a door which doesn't get a whole lot of traffic and also thick enough to last you a few years.

Material

. It is made of 100% recycled rubber that does not fade out in the scorching sun or start cracking up under harsh winter weather.

Easy to maintain

. You can either scrape off dirt from it or simply hose it down when it gets super dirty due to mud build up.
My Verdict: If you are looking for an elegant looking doormat that drains water, then highly consider getting this half moon scroll door mat, it will not disappoint your décor efforts.
---
See also Door Mats Safe for Vinyl Flooring
---
Conclusion
For homeowners looking for an outdoor doormat that doesn't hold water, rubber is the best material to look out for when shopping for one.
The five we have reviewed are nice looking, won't crack from harsh sunny weather or winter and it wiped off sludge well without issues. In addition, it will not fade or lose it's rich black color from exposure to sun rays -they are built for the outdoors