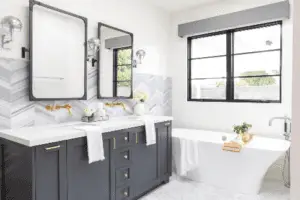 When it comes to bathroom rugs, there are plenty of types to choose from. But my personal favorite are the double sided bathroom rugs. They turn an ordinary bathroom into looking like a spa.
More importantly, you don't have to wash them as often, when it starts to look a little dirty-you just flip it over. You can easily toss it in the washer and dryer with regular towels. Unlike the ones with a rubber lining which fall apart in the dryer and practically fuse to the floor leaving behind sticky residue.
And it is not hard choosing the best double sided bathroom rugs. You only need to consider the size you need, texture you prefer and the weight of the rug. Read on to get one suitable to match your décor and style.
Quick List of Top Double Sided Bathroom Rugs (linked to Amazon)
A Review of the Best Double Sided Bathroom Rugs
Main Features
If you are looking for a lightweight super absorbent bath mat that you can place in front of the sink or bathtub. Then this white classic luxury floor towel set is for you. They are of high quality plush cotton fabric, generously sized with a nice design too.
They are very easy to care for and maintain. You can just drape it over the size of your tub between uses and it dries up very quickly. They also hold up very well with frequent laundering.
They come in a set of 2 so you will always have a fresh clean one when you launder another. And are available in 8 colors am sure you can find one you'll love. Highly consider getting these if you are looking for a rug that doesn't need to stay down all the time.
Main Features
For a bath rug that runs the full length of a bathtub, a double vanity sink area or two sliding glass sliding doors. You will need to get a runner rug and this one by Chateau home collection is just perfect.
It is super absorbent because it is made of cotton. It runs 60 inches and will catch all the splash water the entire length of a bathtub. . And feels soft to step on, it will do a good job keeping them dry once you out of the shower.
Best of all, it washes up very well and it does not take long to dry up. This rug is attractive and you can give it to a friend as a housewarming gift. Check out from the more than 5 designs for the perfect match.
---
See also How to Make Bathroom Rugs Non Slip
---
When you are into aesthetics as much as we are, then take a closer look at this rug. The name does not give it justice because it is not by no means basic. It has two finishes on each side; you can choose the look and feel you like.
Main  Features
One side has a tufted look and the other a loop sided type of pile. Both sides are attractive but the loop side is more absorbent and softer on the feet. As for me I couldn't choose which side i love the most.
They wash up well in the cotton cycle without an issue and come out looking as good as new from the dryer. It may shed a little in the initial wash but that's all. After that you can toss it in the wash with another bath and hand towels and it'll be fine.
If you are worried about them slipping around, you can simply place anti slip strips underneath. We strongly recommend this rug if you are looking for a bathroom rug that won't crowd a small bathroom or as a rug to place in front of a single sink. It is high quality and practically inexpensive.
For homeowners looking for some texture and  not so basic bath rug, consider this flat weave waffle patterned bathroom rug. It has high quality stitching, very comfortable on the feet and spa like.
Main Features
The honeycomb design increases the surface area and makes it quick drying unlike memory foam rugs that take forever to dry. In addition, the flat weave makes it produce little to no lint at all compared to terry bathroom rugs. 
Although it does shrink a little after the wash ,it is not more than ½" . You should consider this rug you are looking for a not so thick rug that will dry quickly. It's of the perfect size and a cool waffle weave design to add some visual appeal to an ordinary bathroom.
---
See also Rug for Home Office with Rolling Chair 
---
Unlike all the rugs listed above these are floor mats that are perfect for wiping your feet after a bath or shower. They come in a set of 6 at a very reasonable price. They work great for vacation rentals or guest bathrooms.
Main Features
They are made of a thick cotton fabric that is super absorbent to keep your floors dry. And they dry up quickly, you simply hang it on the towel rod. They are also easy to clean with other bath towels so you can save up on laundering costs.
Highly consider getting this set if you have a vacation rental. They are the perfect size, not so big, absorbent and they hold up well after washes. Although they ball a little during the first several washes, it reduces the more you wash it.
---
See also Pros and Cons of Rugs in Bathroom
---
Conclusion
If you are tired of the popular rubber backed bathroom rugs that fall apart in the dryer or memory foam rugs that take centuries to dry up. Going for double sided bathroom rugs is a smart choice.
You can simply flip them over when one side gets dirty and toss them with regular towels in the washer when cleaning them. 
We recommend you get a runner for a bathtub or double sink and  regular size rug in front of the shower door. .Am sure you will snug one from the top double sided bathroom rugs we have reviewed.