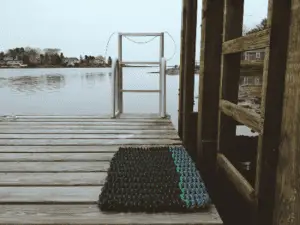 If you are tired of replacing your doormats after every season and dealing with soggy mats after the rain, you are in luck. Because we have rounded the best outdoor doormat for rain that will withstand the harsh weather and test of time.
And it does not have to be hard looking for the one suitable for you. The main features to look for include: it should be made of a weather resistant material such as rubber, be able to drain water, dry quickly and trap mud and debri from shoes effectively.
Such an outdoor doormat will mean the end of wet undersides and growth of mildew on your porch. What's more they are heavy and will not be carried away by torrential rain and are durable enough to last decades. 
Check Out Our Top 3 Recommendations
Review of the Best Outdoor Doormat for Rain
If you are looking for a doormat that will let water through and do a fantastic job at removing dirt from shoes. Then you should go for the Kempf Rubber Scroll doormat. It is attractive, super durable made from heavy duty rubber and effective at water drainage.
It has a nice looking wrought iron pattern on it that will make your porch not too painful to look at. The scroll pattern on it ensures its effectiveness at scraping off mud and debri from shoes and letting through water. And is super easy to lift up to sweep off dirt underneath and to maintain too by hosing it off.
Importantly, it's heavy and will not be carried off by torrential rain or stormy weather. And is made of thick rubber that is durable and can withstand high traffic. Best of all, it comes at a super inexpensive price and is a must have for rainy climates.
---
See Also Doormat Without Rubber Backing
---
For the environmentally friendly, Durable corporation have you covered. Their Durite entrance mat made from recycled tires will be the perfect fit. The open mesh design makes it excellent at drainage and at dirt retention below the surface.
Best of all, this entrance mat can double up as an anti fatigue doormat for your work station or garage. And because the mat is woven it easily rolls up for storage and cleaning.
The herringbone design is not only attractive but allows for evaporation and an end to mold or mildew growth underneath your mats. Best of all the mat is heavy duty and you can be sure will last more than a few years. If your parents had one of this on their porch am sure you won't be replacing it any time soon either.
---
See also Outdoor Rug That Doesn't Hold Water
---
Don't be alarmed that the Durable Corporation is making yet another appearance on this list. This is because they simply know what they are doing, having been making outdoor mats since 1923.
We recommend this Durable Corporation Dura Rug if you are looking for a mat that will not stay wet after the rains ending up tracking in water into the house. It has a carpet like fabric finish on the top to wipe off mud off your shoes effectively.
It is super easy to maintain and keep clean. All you need to do is hose it down and it is as good as new. Although it is on the pricier side, you can be sure to get great value for your money from the years it will last. Get this mat if you are done buying several decorative mats that disintegrate and rot every season for your front and back door.
In case you are shopping around for an outdoor doormat for a covered porch or back door. Then this M + A waterhog mat is what you should consider. It is made of polypropylene material that dries up quickly and is great for outdoor use.
It has rubber reinforced face snubs that can withstand high traffic and prevent crushing from all the foot action. And because rainy climates also come with mud which dries up quickly and can be shaken off after some hours or swept off with a broom.
Best of all the mat is not only stylish but has substance and is durable. Once it rains you can be sure it will dry quickly and will also withstand boot scraping from the foot traffic. It will combat the dirt and mud keeping your floors clean.
---
See also Best Outdoor Doormat that Dont Hold Water
---
Last but not least, we have this CHICHIC heavy duty rubber doormat for those looking for a decorative doormat that can also work well under rainy areas. It is a heavy duty rubber doormat with a unique fabric pattern on top that works well to trap dirt in between the grooves. And the color also works well in hiding off muddy footprints.
It is also super easy to clean and maintain whether by vacuum, sweeping off dirt with a broom or hosing it off for a general clean. It is also super heavy and you can be sure it will not be carried off by windy weather or torrential rain storms
Consider this decorative outdoor doormat if you have a concrete patio to add some color and aesthetic to your front door. It is available in several sizes and different shapes and colors. Am sure you will find one that suits your style.
Conclusion
When you find that you're buying 3 -4 new outdoor doormats because they rot and disintegrate. Just any doormat will not make it all year round in rainy climates. 
The important features to look for in an outdoor mat  is it should be made of durable material that can withstand harsh outside weather. It should also have efficient drainag or dry quickly to avoid growth of mold and mildew.
We strongly recommend Durable Corporation Durite Mat as the best outdoor doormat for rain. It is made from durable recycled tyre material, has effective drainage holes and is super easy to clean and maintain.