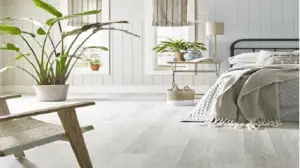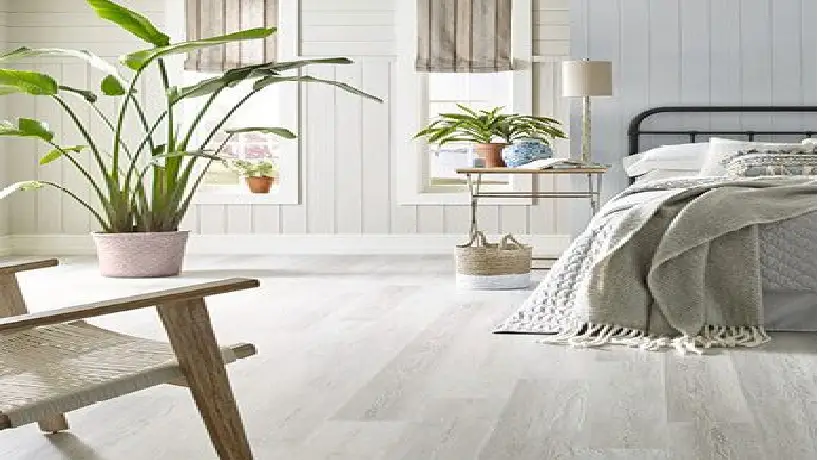 Vinyl plank floors don't come cheap and you want to protect your investment by all means. If you are looking to decorate your floors with rugs and are wondering whether that it is safe, this article will address all your concerns.
So, can you put rugs on vinyl plank flooring? Well you definitely can put rugs on vinyl plank flooring but you must be careful what kind of backing the rug has and the rug material it self.
Natural material rugs such as cotton or wool are safe for vinyl plank floors. On the other hand, a rubber backed rug is not safe because it will trigger a chemical reaction with vinyl plank flooring. 
This is because vinyl is a man made material made from petroleum based products mixed with additives such as plasticizers. And when it is exposed to heat, moisture or sunlight a chemical reaction occurs between rubber and vinyl floors.
It releases gases that discolor and stain vinyl floors. Which means you must be very careful when shopping for rugs for your new vinyl floors if you want them looking as new and last you 15 or more years to come.
An Important Word About Rugs Safe for Vinyl Plank Flooring
Rug backing that you should completely avoid if you do not want to end up getting yellow ugly stains on your vinyl plank flooring include:
Rubber backed rugs

. This is because rubber backing will discolor and stain your vinyl flooring over time from exposure to friction or sunlight. Rubber backing also leaves behind sticky icky residue that is very hard to get rid of.

Jute backing

. As a material jute is good for vinyl because it is natural but as a backing jute is not soft but tends to be scratchy. Even though manufacturers say vinyl flooring is scratch resistant- it will get scratched overtime if you use jute backed rugs because of friction.
Rugs Suitable for Vinyl Plank Flooring
Generally natural fiber rugs such as cotton, sea grass, sisal, jute and wool are safe to use on vinyl. However, you must put a rug pad underneath to add cushioning and avoid scratches due to friction.
Let us take a deep dive into rugs you can use on your vinyl floors that will not ruin it over time.
Cotton backed area rugs
Most area rugs in the market today have rubber backing to make them non-slip and waterproof. However because vinyl flooring is waterproof , you will not need to get rubber backed rugs as such for your floors. 
Which is why for area rugs for your living, bedroom and dining room you should consider getting cotton backed rugs.
This is because cotton backed rugs are soft and will not scratch your floors overtime due to traffic on the rug and will not leave behind scratches on your floors. In addition, cotton will not trigger any chemical reaction from friction with your vinyl floors, so they will be safe from stains and discoloration.
Although cotton backed rugs can be slippery on floors. You can easily secure your area rugs by placing a non-slip rug pad underneath to prevent slipping accidents and cushion your rug from wear and tear.
Unique Loom is one of the brands that make high quality and durable cotton backed rugs in the market. You can check out this Unique Del Mar Contemporary area rug for your living space.
---
See also Office chair on Vinyl Plank Flooring
---
Hand woven rugs 
If you want to avoid any kind of synthetic fiber such as polypropylene because most rugs in the markets are made of it, settling for handwoven natural fiber rugs is what you need. Handwoven wool, jute, seagrass or cotton rugs are a good alternative.
The best part is that hand woven rugs do not have any backing which could discolor your floors- especially if the material is free of any dyes and additives
Wool is a durable material and can withstand high traffic areas overtime only that they can be quite pricey.
Cotton on the other hand is soft and easy to clean-you can throw the rug in the washer and dryer in a mild cycle.
Jute rugs are also relatively cheap compared to wool and cotton is also a cheap and durable material. Although they are slippery and scratchy on slick surfaces. A rug pad suitable for vinyl floors is the solution for that..
Colorfast rugs
Colorfast rugs are also safe for vinyl floors. These are rugs that the chemicals or dyes used to make them will not react with the surface they are placed on when exposed to heat, sunlight or water. 
These are not easy to come by. However, if you can get them, you can be sure of no discoloration or staining on your floors.
---
See also Non Staining Floor Protector for Furniture Legs
---
Rug Pad for Vinyl Plank Flooring
If you find a rug that you love to decorate with your vinyl flooring. It is a good idea to place a rug pad underneath it for several reasons. 
You will be protecting your floors from contact with the rug backing 

It will cushion the rug backing from wear and tear due to traffic on the rug overtime.

It is will also add much needed thickness to thin area rugs such as cotton

It will also prevent slipping accidents and avoid dreadful trips to the emergency room.

It keeps rugs exactly where you place them.
Most importantly you must be careful when selecting a rug pad for vinyl floors because the market is flooded with rug pads that will leave behind ugly mesh patterns on vinyl, stains and icky musky residue.
Safe rug pads for vinyl include memory foam, felt rug pads and anchor grip rug pads made from silicone with felt and PVC (polyvinyl chloride)
---
See also Rug Pads Safe for Vinyl Flooring
---
Rugs for your front door or back door
For your door mats you should also avoid rubber backed rugs too. And you do not have to worry either because  there are vinyl backed doormats that are safe for use on your floors and BONUS they are also non slip.
The only door mats safe that I recommend for vinyl flooring is this Ultalux Indoor Entrance Door mat that has a vinyl backing and is made of polypropylene fibers that absorb dirt and water from shoes and dog paws.
Cleaning and maintenance the rug is also easy- you can vacuum clean or machine wash (make sure to maintain a temp of 30 degrees to avoid damaging the mat.
Conclusion
For a homeowner looking to decorate their beautiful vinyl flooring further with rugs. You must be careful when shopping for a rug in the market flooded with rugs of all kinds.
Rug backing to avoid include any rubber or latex backing because such will only ruin your expensive flooring over time. This is because chemicals used to make vinyl will react with the rubber when exposed to sunlight and from friction due to traffic releasing gases that lead to discoloration on the floors.
Rugs that are safe for vinyl flooring include rugs with backing made from natural fiber such as cotton backed area rugs, jute backing( although for these you will need a rug pad because it can be scratchy) and handwoven rugs without any kind of backing.